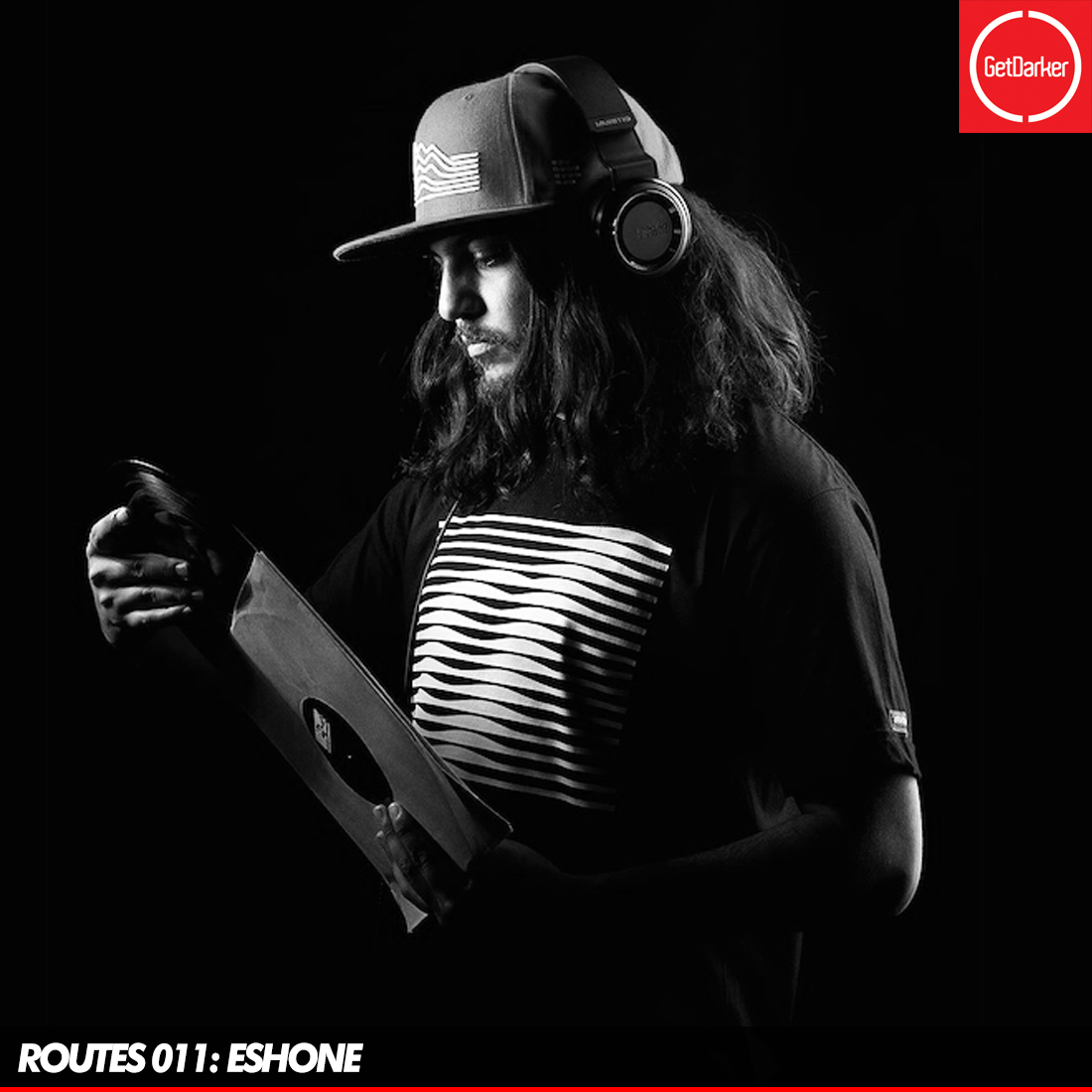 For the eleventh installment of our Routes series we tapped up Elk Beats owner EshOne
1. Ed Rush & Optical – Mystery Machine [Virus Recordings]

I think the sound of the drums in late 90s techstep, or whatever you wanna call it, is one of the most organic, and amazing percussion sounds in dance music. I absolutely hate the over processed and compressed sound apparent in a lot of today's production, and this track is a great example of a wicked snare.
2. B.Key – Capacitator [XXX]

This track basically tied my love for dnb and techno together. The kind of ambiguous sub and acid stabby bassline are amazing, and mixed with the drums, make a serious push/pull effect. Heavy groove.
3. Cybaspace ft. Shanie – Life (Dom & Roland Remix) [Cyba]

This remix is my favorite dnb track ever. Not much else to say about it.
4. Hive – Ultrasonic Sound (Dillinja Remix) [Vortex Recordings]

I think the first time I heard this track, I was seeing Hive at a warehouse party. I thought the subs were going to explode. I have a serious love for bitcrushing and heavy distortion, probably coming from listening to so much metal growing up.
5. Groovechronicles – Stone Cold [Groove Chronicles]

The first half is so smooth, and the second drop is so dark and sexy. I've been a huge fan of El-B since I first heard his tracks, and I don't think he's made much that I don't love. "Those drums." This one's a classic.
6. L.S.G. – Go Fishing

When I was learning to DJ, my homies Inks & Deck had a ton of wicked 90s techno. We'd pitch it down like 6% on the 1200s and turn the subs way up. Come to think of it, we were basically mixing 4×4 dubstep in 2001. Haha! Oliver Lieb/L.S.G. is definitely a stand out from that era, such hard grooves, with very obvious, yet subtle syncopation.
7. Sergej Auto – Carnage, ok! [Saasfee]

This track made my run my Reaktor beat machine ensembles through a guitar head and distortion pedals, into a 4 track tape deck. I have a sick mixtape of like 45 minutes of distorted beats… I need to find that tape, or do this again.
8. Sixtoo – Duration Part 14 [Cease & Desist]

I've always liked instrumental hip hop stuff. Natural drum break flow, mixing for balance (not loudness), and a focus on groove and progression.
9. Sole – Salt On Everything [Anticon]

Some artists, like Sole, just bring a very real emotion that isn't achieved with many other sounds. It's kind of upsetting, eye opening, and just on the verge of being overwhelming. It stirs your emotions up, challenges your contentness, and I like it.
10. Pantera – Floods [East West Records]

Dimebag is the greatest guitar player of all time. I have been playing guitar most of my life and, especially when I was in a metal band, Dime has been my biggest guitar influence. Best solos ever in this song.
11. Screeching Weasel – I Believe In UFOs [Roadkill Records]

My older cousin Jesse got me into punk rock when I was 10 years old. Screeching Weasel was one of our favorites, and still is! This was definitely my favorite punk track back then… Or "Supermarket Fantasy"
12. Beehive & the Barracudas – Stuck On A Bus [Swami Records]

I love Beehive & the Barracudas! They are probably one of my go to bands for listening in the car. I've got so many road trips that come to mind when their albums are on. They remind me to not take my music so seriously, keep it sounding dirty, and most of all, have fun.
SUPPORT ESHONE::
Soundcloud – https://soundcloud.com/eshone
Facebook – https://www.facebook.com/eshonemusic?fref=ts
Twitter – https://twitter.com/EshOne
Instagram – https://instagram.com/eshone_elkbeats/