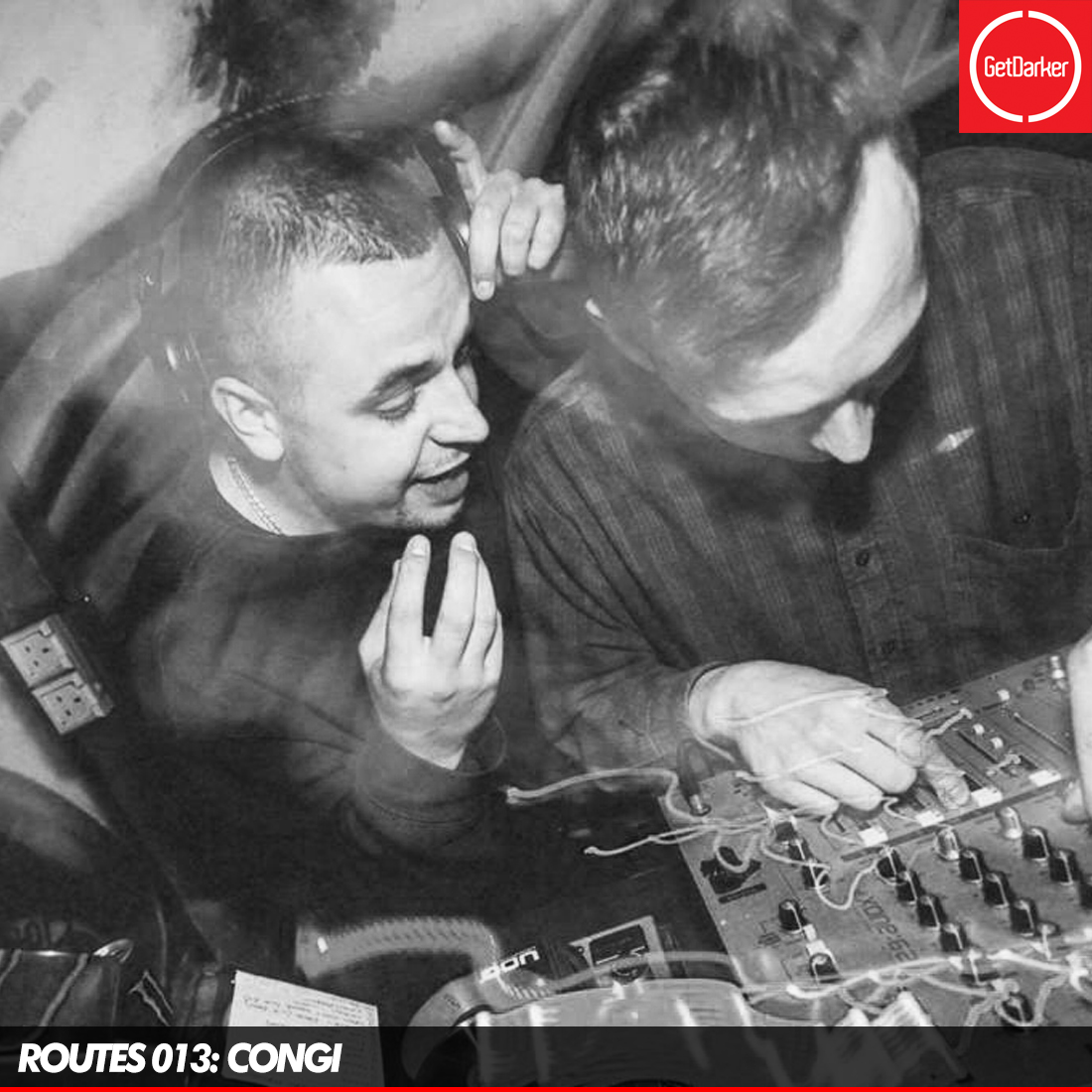 For the 13th installment in our Routes series we tapped up Nottingham based duo Congi and they obliged us with a playlist packed with hip-hop fire, dubstep pressure and strong support for their home city!
01: Nas – One Love

One of the first albums I bought around aged 13 at the tune of the millennium. I found the complexity of the word play and the depth of the story telling compelling. The production level had a much fuller sound than his later work and that got me thinking about the producers roll in music.
02: J Dilla – Rico Suave Bossa Nova

A year or two later I found J Dilla who to me was the hip-hop producer that possessed all the tools in the bag, and still my favourite music producer to this day. His bass lines had a freedom, his drums had a swing and the samples were out the box.
03: Dizzee Rascal – Creeper Freestyle

One of the first times the internet came in handy in the early 00's. I had a few mates who schooled me on grime as young teens and for me Dizzee's lyricism was above and beyond. At the time this style of Danny Weed/Wiley beat was all I thought existed in the grime scene ha.
04: Flying Lotus – Massage Situation

Around 07 I started to look for more instrumental music beyond hip-hop, I enjoyed the DJ Shadow, Bonobo, Quantic, Mr Scruff type stuff but I was looking for something I hadn't heard before. As soon as I heard the Reset EP I fell in love with this guy's sound and nothings changed since.
05: Mala – Changes

As I started going out to night clubs I wasn't in to dnb or techno. Luckily we had some nights in their infancy that are now the mainstays of our city (Nottingham). Wigflex, Rubberdub with Mimm following later were playing interesting new sounds from multi-genres and what captivated me most was dubstep which was played at most events around that time. I don't mind admitting I enjoyed some of the mid-range clangers after a few drinks but the deeper side I found much more interesting and started collecting these sorts of records not long after.
06: Geiom – Reminissin' (Geiomix)

Speaking of Nottingham, there is plenty music from home that has inspired me so the next four picks are all Notts heads. Hopefully the Getdarker crowd are familiar with this one. This style of 140 with the skippy hi-hats and dry snares summed up a large part of the Nottingham sound at that time, I still play this out most sets. Salute Geiom.
07: Spam Chop – Kitbags n Bling

My favourite Nottingham DJ, I've heard him play sets including hip-hop, techno, dubstep, pop, beats, the master of the technics for me. He ended his set at our EP launch the other week with an old Coki tune that Geiom wheeled funnily enough. What I like about his music is the fact it goes on a journey round the houses and I'm not too sure he gives a f*ck what others make of it. Crunchy drums and aggy synths, badboy. He is also the founder of Wigflex, if you like independent nightlife and you're planning a trip to Notts, plan it around a Wigflex.
08: Lone – Airglow Flies

A more recent tune, a massive release. What I like about Lone is listening through his body of solo work and his previous stuff during Kids In Tracksuits you can hear his sound from the very beginning, and over the years he just refines it until you reach a song like this where it's clear he has mastered his craft.
09: P Brothers – Nottingham Bronx feat Cappo

Nottingham's hip-hop heritage is pretty solid, salute OutdaVille, Mr 45, Joe Buhdha etc. But a mixture of P Brothers beats and lyrics/accent/delivery from Cappo
is probably my favourite combination. A classic.
10: Shield Your Eyes – Sandy

A curveball to finish with. I had some mates who were in a DIY band as a teen and one friend in particular I've always shared music and culture with. We used to swap vinyl and have a couple drinks, I gave him J Dilla – Donuts and he gave me this. Not my usual cup of tea but the drummer is amazing. We saw them play live when they came to Notts, he played in tracksuit bottoms bare-footed and was one of the best drummers I've seen.
11: Madvillain – Sickfit

Had to throw one more in. Another of my all time favourite producers, and this tune in particular Gaz and I both repeat on a regular.
Out to GetDarker!
Congi's new 9 Sessions EP is available now via MiMM: http://bit.ly/1RtsgYX