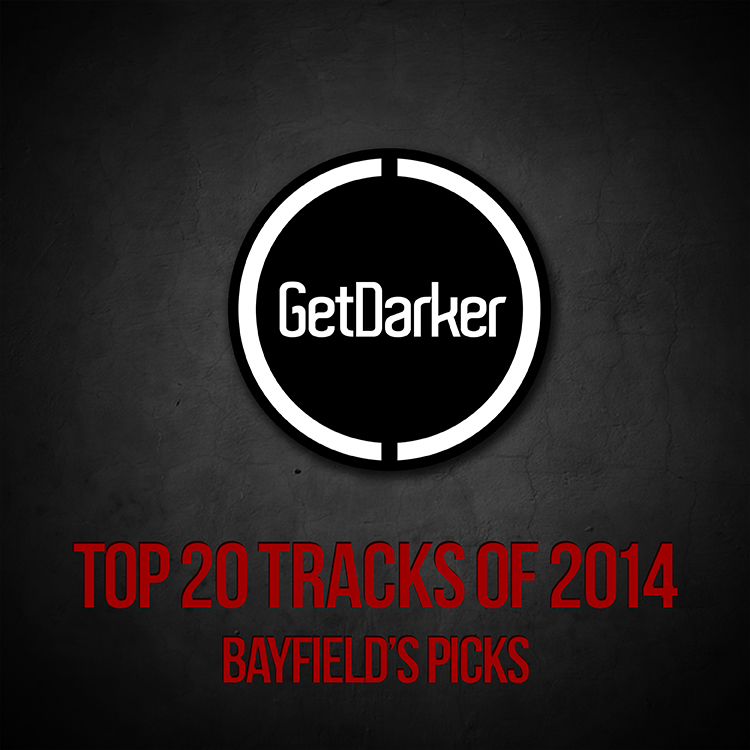 As with every other year in recent history there was a veritable shit-ton of music, both utterly spellbinding and utterly bollocks, that reached my ears in 2014 and much like every other website / magazine / opinionated person with access to the internet I'm going to make a slap-dash attempt to compile a list of the 20 top tracks of the past year that will in no way be definitive, concise or in any way paint an accurate picture of the numerous musical styles and scenes we here at GetDarker support. Furthermore there are subsequent portions of 2014 that I can't remember, due largely to the Hendricks gin company and their tireless work to end my professional (and mortal) endeavors. So with that in mind here's a list of twenty tunes (in no particular order) which I thoroughly enjoyed across 2014. Enjoy. Bayfield x
1. Lockah – Summer Jorts (Some Cats Still Do) [Donky Pitch]

If you're familiar with the Donky Pitch gang, their wonderful label and club nights then you'll no doubt already know that they are straight up one of the most joyous, unpretentious and all round lovely collectives currently putting out music, and this year they were easily one of the most consistent labels going. Releasing two fantastic albums, numerous EPs and a FREE 5 year anniversary compilation across the past 12 months it's hard to pick any one particular record as a standout, as they were all so bloody good, but Lockah's album in particular has been on constant rotation for a fair old while now, with this track in particular making me shake my particulars. There's some jungle-type breaks, albeit without the chin-stroking "continuum" wankery discussion most websites were having, there's big synth melodies that you can whistle while you work and a genuine sense of unbridled joy to the whole concoction… Made all the more impressive when you take into consideration the fact Lockah hails from Aberdeen, a place so bleak and oppressive it makes a 1930's Stalinist Labour camp look like a Pontins ping-pong tournament. Yaaaaaaaaaaay! Purchase Lockah's Yahoo Or The Highway HERE
2. Inkke – Paradise [Local Action]

Carrying on the theme of addictive and colourful synth melodies, coincidentally made by someone used to the bleak winters (and occasional summers) north of the border, comes Paradise by Glasgow based producer Inkke. His 'Crystal Children' EP came out on Tom Lea's Local Action imprint earlier this year and was a bit of a belter from start to finish, with a certified club banger in Thinkk Star (Club Mix) and a stunning JT The Goon remix of Paradise, but it was the original cut that kept dragging me back. Bleak, melodic, atmospheric and a haunting vocal refrain. A bit like listening to old Linda Thompson records whilst trapped on a North Sea oil rig. There will probably be some more from Local Action later in the list (I'm compiling it as I go so don't quote me) but meanwhile you can purchase Inkke's Crystal Children EP HERE
3. Bok Bok – Funkiest (Be Yourself) [Night Slugs]

When you're Night Slugs every year is a good year. They put on reliably great parties (although unfortunately, through no fault of Night Slugs other than being a genuinely innovative label, they tend to be a bit of a wanker magnet) and release reliably great music. 2014 was no different, they re-released that classic Dat Oven track in collaboration with sister label Fade To Mind, a slick Neana white label and an L-Vis 1990 VIP but for me, the icing on the NS cake was this number, taken from label head Bok Bok's 'Your Charizmatic Self' double vinyl pack. It's got all the hallmarks of classic Night Slugs work; that sort of polished, machine like pad work, a nice sense of space, but it's also got a deep seated sense of funk, some boogie styled bass and the odd big wub type thing that makes it both sound and FEEL really fun when rattled around on a system. It also tells you to "be yourself" which is a really nice message in a world of fixie bikes, cereal shops, coalition governments and a general sense that a lot of people are just talking about this stuff because they are embarrassed to admit how much they enjoyed 'Timber' by Pitbull and Ke$ha. Somehow this beautifully stripped back jam decants all that. Buy Bok Bok's 'Your Charizmatik Self' EP HERE
4. NDread – AMT [Macabre Unit Digital]

I've made it no secret this past year that much of the dubstep scene has largely bored the pants off me. Never really one for the tearout anyway but I can't help but feel the majority of the deeper stuff I get sent to listen sounds like a bunch of tunes I heard in 2009. Or maybe even 2008. Not that there isn't the odd pearl I hear now and not that those years weren't fine years for dubstep, but in 2014 I truly feel there's far too many people resting on their laurels, churning out the same old formulas. Throw in a couple of "classic throwback set" performances and we've more or less arrived at a Garage Nation scenario, albeit with duffle coats and spliffs instead of Moschino and expensive spilt drinks. I was therefore delighted when the Macabre Unit boys sent me over this tune by NDread, which fused some trap style snare rushes and genuine swagger to an absolutely no-nonsense, corned beef hash of a bassline to create one of the most thunderous tracks of the year… I also illustrated the cover so it's probably got the added feather in its cap of being the only release this year featuring the only thing I illustrated this year. Buy it HERE
5. DJ Milktray – Genie Riddim [Astral Black]

Another club banger from north of the border; the 'All Because The Lady Loves' EP from the wonderfully monikered DJ Milktray, released via Jon Phonic's always on point Astral Black label (see also Inkke's Faded With Da Kittens cassette) was one of my standout EPs of the year. From the mad fidget of the R Kelly chopping 'Hotel' to the mad chopping of my favourite sleazy 50 Cent club banger for 'Lil Bit' it was an all round joyous chop, cut, paste and sample fest. The pick of the chops for me, however, was 'Genie Riddim' a joyously melodic number that I managed to leave on loop for almost twenty minutes before deciding I should probably leave it on loop for a further forty minutes. Sweet like a Smirnoff Ice is that boy Milktray. If it's not already sold out buy the 'All Because The Lady Loves' EP HERE
6. JT The Goon – Garden Of Eden [Oil Gang]

Every man and his dog was talking about instrumental grime in 2014. I even heard a few man's dogs talking about instrumental grime in 2014. A few people stuck in 1814 were so desperate to talk about instrumental grime in 2014 they invented a time machine and travelled to 2014 to talk about instrumental grime in 2014. I couldn't be arsed to do much talking about instrumental grime in 2014 so instead I listened to JT The Goon & Murlo's beautiful 'Plume' EP in 2014. This is the standout track from a standout release from a standout label that released some other standout releases in 2014 including JT The Goon's also awesome 'Twin Warriors' EP (also instrumental grime from 2014). Buy it HERE
7. DZA – Combo Cheat [Activia Benz]

If you haven't cottoned on just yet I'm not really taking this end of year review too seriously and to be fair, I still think I'm doing a half decent job of it. A label who similarly doesn't take things too seriously but actually do a really bloody good job of it is Slugabed's Activia Benz imprint… Apart from anything else the label seems to be named after a probiotic yoghurt and a luxury German car and has, hands down, the best press releases you'll ever read. I recommend starting up your own fake music blog/magazine just so you can get on their mailing list. Anyway as well as putting out some damned brilliant EPs over the past year Activia also put out the brilliantly titled 'Activia Frenz' compilation free of charge. It had a multitude of bangers but this little dayglo nugget from DZA is the one that made my feet smile the mostest. For a barely four minute tune it seems to pack in more creativity and fun than most po-faced greyscale "tastemaker" labels can pump out in a whole year of Berghain residencies. If you don't get distracted by the fantastical Cbeebies with dementia style website you can cop the Activia Frenz compilation somewhere round HERE
8. Jon Hopkins – Immunity (Asleep Version) [Domino Recordings]

For a man who despises pretension and regularly trumpets labels/artists/creatives who don't take themselves overly seriously I spend an inordinate amount of time wandering alone on barren stretches of rural farmland or windswept coastlines listening to immersively maudlin and downbeat music (and quite possibly feeling sorry for myself). This 'asleep version' of the title track from Jon Hopkins' stunning 2013 album was a definite favourite of those aforementioned windy walks in 2014, unfolding the already beautiful original somewhat and allowing King Creosote's lilting lyrics to be both more audible and haunting. If you spend the lion's share of your weekend with excessive levels of serotonin coursing through your mind and body it's highly recommended you sort yourself a copy of this beautifully tranquil EP ready for the Monday/Tuesday emotional roller coaster. Do that HERE.
9. DjRum – Ode [2nd Drop]

Whilst we are in the arena of harrowingly beautiful music suitable for Tuesday blues or general introspection here's the always on point DjRum with Ode, taken from the all together epic 'The Miracle' EP released via 2nd Drop. Furiously dense, muted percussion rubs up against sublime vocal chants and delicately plucked strings to create an altogether otherworldly sonic palette. It's a hypnotic peak to an all around hypnotic EP. In stark contrast to 'Ode' the B-side was a pummeling breakbeat-cum-techno monster that went hell for leather. DjRum also supplied a blissfully elegiac remix for Wild Beast's 'A Simple Beautiful Truth' this past year… Nice to see I wasn't the only one emotionally all over the place. Buy 'Ode' HERE
10. KidKanevil – Shunkanido [Project: Mooncircle]

More melodically wistful downbeat beauty, this time from KidKanevil on the always reliable Project: Mooncircle (see also submerse's 'Slow Waves' LP). Fizzing electonic pops and gltiches, beautifully sparse piano lines in a very Joe Hisaishi style and just the right amount of muted percussive hits. Buy the double pack vinyl as not only is it one of the most beautiful albums of the year but it also comes in one of the most beautifully designed sleeves of the year too. Buy it HERE.
11. Lavender Worm – Hot Barbecue [Raha & Tunteet]

Right before we get too bogged down in maudlin electronics and self loathing let's move on to the altogether more joyous tones of Lavender Worm and his/her 'Hot Barbeque' an anthemically wonky number released as part of the 'Synchronized Swimming' EP on Finnish Skwee imprint Raha & Tunteet. Don't ask me what that label name means. I don't know. Don't ask me what Skwee is, it's tricky to explain without a drawing board and felt tip pens. Don't ask me what's going on in this tune other than people shouting "hot barbeque" either: it speaks for itself. Buy it HERE
12. Todd Terje – Inspector Norse [Orsen]

There's nothing better than a good bit of disco and it doesn't matter that Darkside hates me talking about disco on GetDarker. It doesn't matter that this tune is about eleventy one years old. All that matters is it was included on one of the best albums of 2014 (disco or otherwise) that also featured a tune with a Bryan Ferry vocal. Yes I could have dug for a deeper, less well known disco release as a pick for 2014 (and I still might) but frankly this album bangs and the fact that this tune is over three years old just stands testament to what a bloody jam it is. Avalon! Buy it HERE.
13. Lil Jabba – Tea [Local Action]

Yeah them Local Action boys are back. In fairness they had an all round smashing year (including a GDTV label takeover which is a definite percy, a banging Slackk album and a beautiful Yamaneko cassette to name but a few things) but, just as the year was coming to a close, they managed to quickly rattle out one last release from the ever eccentric and oft overlooked Lil Jabba. The EP on the whole was equal parts bloody brilliant an bloody bonkers and 'Tea' was probably my favourite of the lot. Icy, cinematic, spartan in its components and an overt feeling of desolation but some how retaining a frantc sense of mania throughout… Reminded me of walking the beaches of my hometown Great Yarmouth really. Buy it HERE
14. Cain – Nagan [Fine Grains]

Fine Grains is an amazing little label that never seems to get the attention they deserve. Earlier in the year they released the wonderful Laptop Lapdance EP by My Dry Wet Mess, they put on one of my favourite parties of the year at The Alibi in Dalston and they also put out the 'Savan' EP by Cain. Every track on the release is a sublime mix of tribal rhythms and ear-worming melodies (there's also a pair of amazing remixes from Local Action's Slackk and Hyperdub's Morgan Zarate) but for me the standout tune was Nagan. In typical Cain style it was a fusion of modern eletronic musical tropes with a somewhat old world spirit and tribal feel… and I don't mean like some wanky "we once watched a Fela Kuti documentary and listened to an old Jamiroquai record" jazz-fusion type of old world spirit either. Buy it HERE
15. Ghost Mutt – Oh Boy Oh Baby [Donky Pitch]

I've got a lot of time for the Donky Pitch gang. Not only did they put on, in my opinion, the best party of the year (their fifth birthday celebration in Brighton headlined by Plastician) they also tolerated me running around another of their parties in my pants (see what sort of heat I'm packin' on the Donky Pitch Instagram) but they also put out a FREE compilation which featured 'Oh Boy Oh Baby' an absolute banger from Ghost Mutt. With ridiculousness cranked all the way to eleven this was literally the most kitchen sink production of 2014: Synth runs, military style drum fills, claps, bangs, pops, whistles, some pitch-bent woman uttering the track title and (probably) nearly as hectic as going on the pull with Mick Hucknall at a middle school parents evening. Single Mum Chirpsin Riddim of the year for me. You can download the compilation for free HERE but you should definitely pay a few quid for it.
16. Murlo – Broken Arrow [Keysound Recordings]

Martin Clarke's always crucial label seemed to be on something of a genuine crusade this year; putting out a number of releases which each felt essential in their own right. I pretty much wanted to put every release up here, from Moleskin's 'Satis House' EP to Wen's much talked about debut album to the brilliantly intricate 'Islands' by LV & Joshua Idehen (who also gave me one of the most enjoyable interviews I've ever conducted HERE) but it was probably 'Certified Connections' the recent compilation that, pound for pound, had the most straight bangers and top of that collection of straight bangers (with special mentions to Caski's 'Tunnel Music' and Etch's 'Champion Dancehall') was Murlo's 'Broken Arrow'. Murlo had a big year in general with the aforementioned collaborative EP 'Plume' with JT The Goon on Oil Gang and the excellent 'Into Mist' EP on Rinse (which featured a video animated by Murlo himself) but this was without doubt the one track in Murlo's seemingly bottomless melodic bag of tricks that stayed in my head from pretty much the first spin. Cinematic grandeur of the highest order. Purchase the 'Certified Connections' compilation HERE.
17. Sepia – Winter [Self Released]

Another of the small clutch of dubstep producing artists that still manages to consistently catch my ear is Sepia, and this beautifully chilly number from his self-released Aurora EP has been on heavy rotation both in the office and on bleak walks across wintery wastelands in varying states of sobriety since I got sent it about a month ago. Keep an eye on Sepia in 2015 as it feels like the young sir is just getting warmed up… Warmed up. Winter. Pun. Watch me go. Purchase the Aurora EP from Sepia's Bandcamp HERE.
18. Effy – Move [Infinite Machine]

This one here from Effy on Canadian imprint Infinite Machine was pretty much a case of doing exactly what it said on the tin. Move. Absolutely no-bullshit, sexy little techno banger. To the dancefloor! Buy it HERE
19. Lamont – Far Away [Durkle Disco]

Without doubt one of the most popular tunes we uploaded on the site this year, released via Koast's Durkle Disco imprint.'Far Away' fused grimey orchestral strings to a skulking 2-step structure to create one of the most cinematically tense, eyes down tracks of year. We also had Durkle Disco in the GDTV studio for a takeover a few months back that proved they are definitely a label to keep an eye and an ear on in 2015 (check that HERE) and purchase the Far Away 12″ backed with a slamming Zed Bias remix HERE
20. Commodo – Shift [Deep Medi Musik]

Last and by no means least in this slap dash attempt to decant and entire year's worth of musical data into a mere twenty tracks is Commodo's absolutely peerless 'Shift'. Commodo has always been a unique and somewhat eccentric voice in the dubstep world, both on record and on his Facebook page, taking seemingly everything with a pinch / entire bag of salt and one of his unique productions was always going to be the perfect canvas for a vocal from JME, a man who also conducts his art in a similarly tongue in cheek manner. The collaboration did not disappoint. For my money there was no bigger 140bpm tune this year. Buy it HERE.
So that was 2014 in review from me. Made up on the fly from start to finish without consulting my record collection, the GetDarker website or the end of year lists of any other website. It is in no way definitive and I'm sure there will be a hundred and one tunes I realised I missed, but on a basic level the first twenty tunes that came to my head are probably the twenty that sunk in the most across 2014 so perhaps this is actually the top 20 of 2014 in its purest essence… Or perhaps I'm overthinking the whole thing.
If you want to either berate or applaud me on my choices (both are genuinely welcome) hit me up on Twitter @BurmaShave_
Until 2015 big up and thanks for supporting GetDarker throughout 2014!