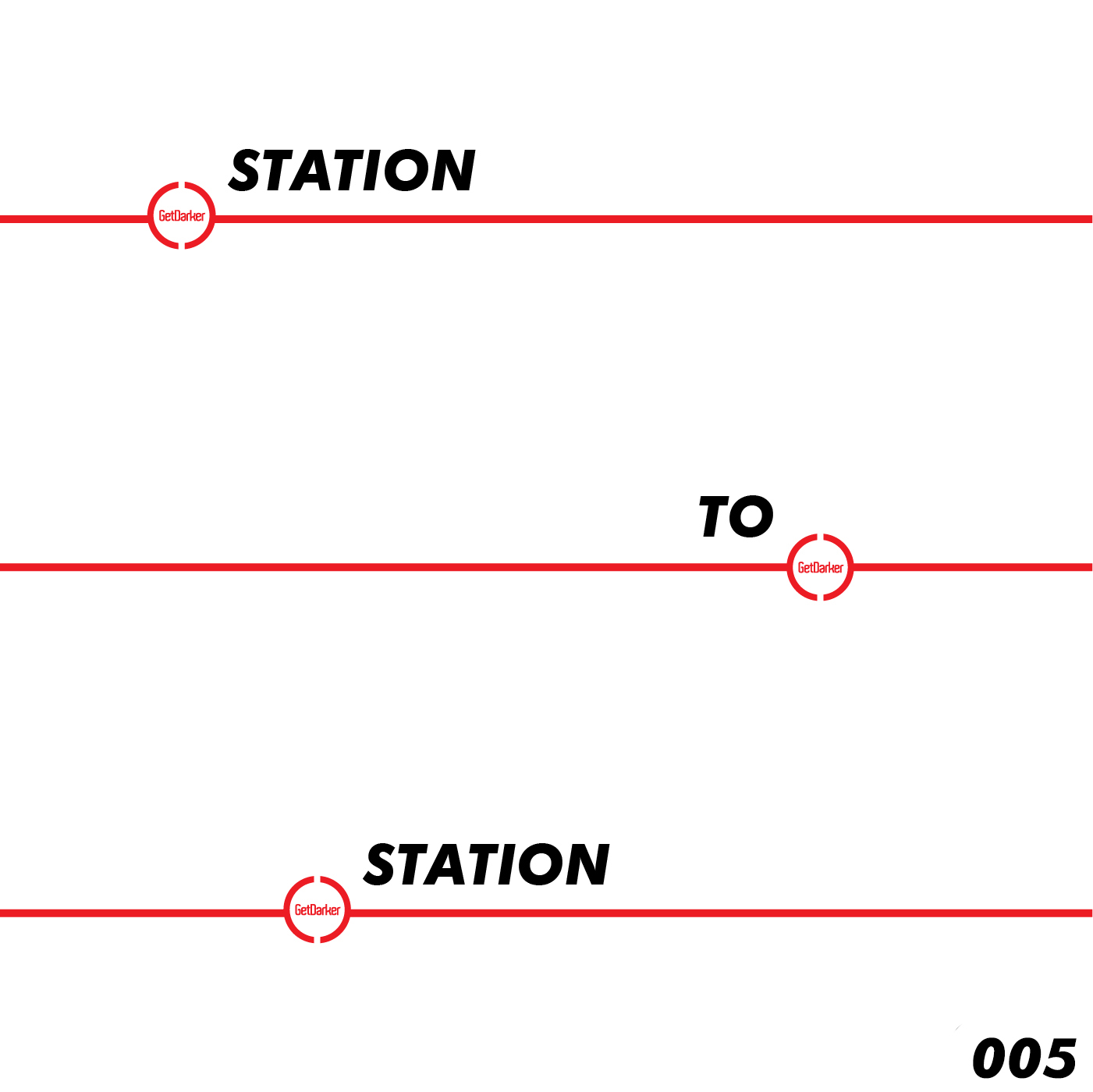 Right I can't be arsed with some witty little paragraph to open this week's Station To Station as I've recently decided to adopt the GetDarker tradition of running about all over the place for no real reason and have therefore begun training for a marathon… It might not be the London Marathon as that's got too mainstream and popular soldout and is now (probably) sponsored by Ministry Of Sound's Ultimate Panpipes Volume 3 or some bullshit. Instead I'll be running a 24 mile circuit around the fried chicken belt that enshrouds North London Zones 2 and 3. Come and cheer me on as I intermittently stop to buy wings, vomit in family buckets and ultimately come to my timely demise amongst the empty Kestral tins and discarded humanity of Finsbury Park. If you want to sponsor me you can do that too, rest assured the money will go on hiring a Colonel Sanders impersonator to tour the underprivileged, starving and half naked children of such 3rd World conflict zones as Great Yarmouth, Lowestoft and Cobholm. Fuck off Gary Barlow, it's time for some real music.
This past week, apart from making my shins cry more tears than a hundred Children In Need appeal videos, I've been rummaging about in the slightly murkier corners of underground music and found rather brilliant Birmingham based producer Filter Dread, who has just dropped the MIDI Space EP on the always out there Ramp Recordings. Filter Dread's sound comes from a self professed immersion in both early 2000's rave and London pirate radio and the raw energy of both those influences (and particularly at that time in their lifecycles) ring true throughout. Clowns From Outer Space boots the EP off at full force with eccentric electronic pulses, fizzing waves of interference and swinging snare claps which segue nicely into the spacious, dubby breaks of the aptly titled Jungle Interlude. It's a fairly electric start to proceedings and things only get more interesting the deeper you go. MIDI Fighter is without doubt the most bonkers cut of the EP, lashing colourful pad work to bashy loops of grimey goodness, distorted percussion and the odd Street Fighter sample for a bit of nineties hundred hand slap magic.

Throughout Filter Dread skirts expertly around the fringes of all sorts of sonic staples, from loose breaks to grimey synths and cavernous bass, but at no point does any tune here fall into an easily classifiable category; unlike much of the music that currently hits my desk, which seems pointlessly revisionist or doggedly traditionalist. On this EP Filter Dread clearly has a reverence for rave music's past and wears his influences with pride, but that never stops his production from being anything but both unique and full of forward momentum.
Next up this week comes the Crystal Children EP by fresh Glaswegian producer Inkke (last seen on Big Dada's Grime 2.0 compilation) available via the ever reliable Local Action. Rooted in grime Inkke's sound is a spacious and colourful one, which frequent plays with bouncing heaving percussion hits and rich synths off more restrained elements such as the twinkling keys and airy pads as seen on opener Lego Riddim. Daisy Chain is an early contender for the highlight of the EP with an affectingly mournful melody and sparse arrangement that cuts deeper than the edge of one of those lemon scented wet wipes that it's scientifically impossible to get into after a 3-piece variety meal. The tempo picks up from there however with the brash, UK funky themed gallop of Zen and the much sought after Thinkk Star (Club Mix). It's great credit to Inkke too that, even with the latter's sample of "who knows about the old school?" neither production feel revisionist or throwback. Thinkk Star in particular feels as fresh as the first time I heard it and that was long enough ago that I can't actually remember for the life of me when I first heard it. In my defence I was probably drunk and almost definitely not carrying a notepad and biro. For me however Paradise, a collaboration with vocalist Julia Juban, is the show stopper of the EP. Shuffling on gentle conga rolls, airy reverb and the drifting vocal refrain of "this is paradise, but I can't get used to it" it is somehow both beautiful yet a bit crushing to the soul… In fact it's not unlike those beautifully bright Spring mornings on Sauciehall Street in Glasgow where the sun glistens on last night's spilt tears and Tennants but temperatures still fail to barely crest single figures.
The digital package's remixes are a bit of a mixed bag; the Gage remix of Thinkk Starr frankly does nothing to improve on the absolutely banging original, relegating it a bit to another one of those clatteringly percussive, vocal looping grime "bangers" currently doing the rounds almost everywhere. JT The Goon (another young name well worth watching) however turns in an absolutely excellent rework of Paradise, imbuing it with a sense of both grandeur and despair via some rich Eastern vibes and a deeper, more dramatic arrangement of muted percussion.
Rounding up this week's reviews is the new release on Osiris Music, notable not only because it bloody bangs but because it is the first fully fledged release from Mønic, the new project from label owner Simon Shreeve. *Disclaimer* I'm currently graphic designer for Osiris Music so feel free to yell claims of favouritism all day. I can't hear you because I'm busy listening to music for this column and also have a day job for GetDarker so therefore don't need to spend my spare time working for a label I don't respect the output of. Over the four tracks of the EP Mønic builds a steady assault of pummelling, industrial sounds, redolent in droning pads, cinematic atmosphere and thunderous percussion. Opener Blood Hound is the most immediate of the tracks, rumbling through with tunnelling intensity and force, whilst the title track and Viscous both experiment with oppressive ambience and almost psychedelic levels of surging, elliptical bass to create dingy little rabbit holes of techno finery.
At present though Blink is probably my pick of the litter, having been on my system constantly since I first got sent it a fair few months ago. The tunes rides more of those heavy drones on surprisingly lithe and rubbery kicks cloaked in delay, grain and all manner of audio trickery to create a wall of hissing pistons and industrial machinery. This is definitely audio engineering of the highest level but probably not suitable music for dancefloors at children's parties or anywhere the sun dares to shine (with the possible exception of Glasgow)
Right that's that for this fortnight. Provided I make it through another fourteen days of running about in central London, abusing Gary Barlow and eating nothing but the deepest fried fineries I'll be back in a fortnight to impose my views on an unsuspecting musical public once more. Meanwhile here's a real charity video that features all sorts of pissed up, surrealist charging about in London Docklands. You could say Jagger & Bowie were early influences on my fundraising style… Fuck you Gary Barlow.
If you want to send any and all tunes of all genres both signed and unsigned for consideration in this column you can do that via bayfield@gd.zi.vc
You can also find me on Twitter @Bayfield_GD
As always you can rep the team directly @GetDarker