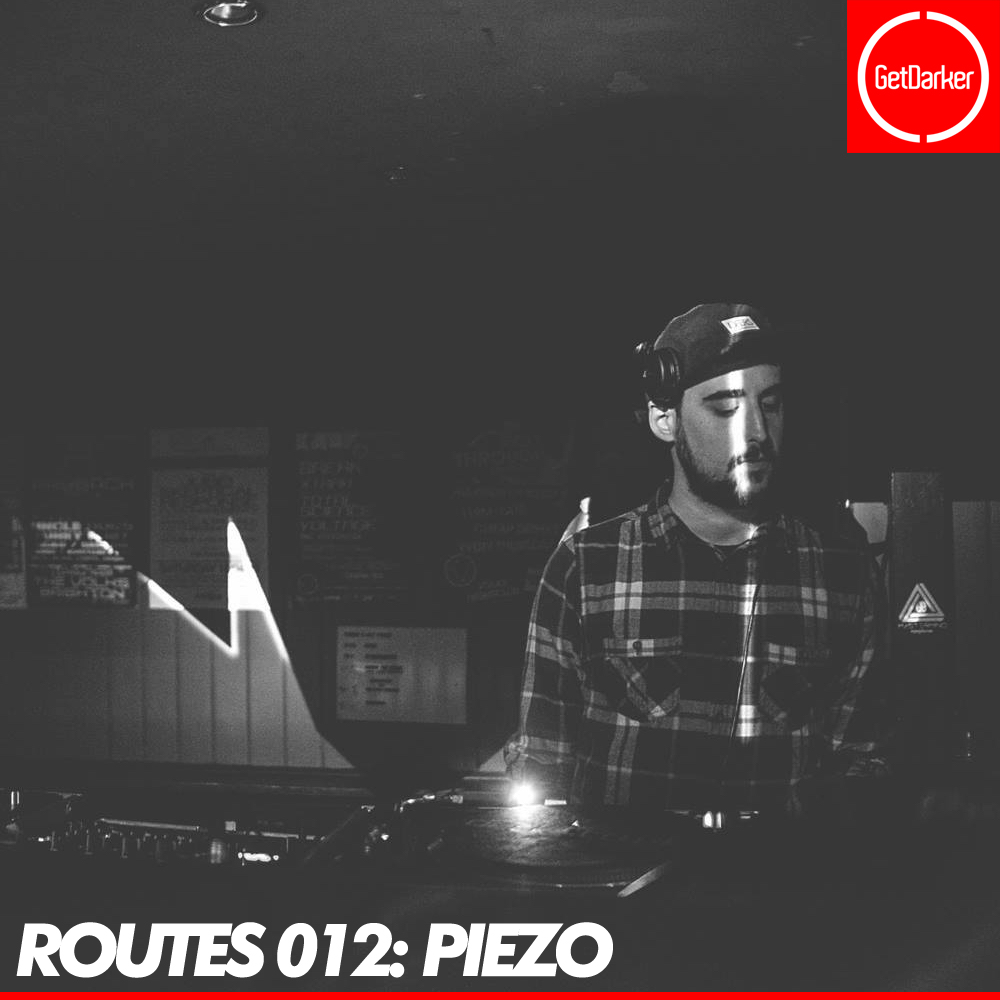 For the 12 installment of our Routes series we hit up man like Piezo
1. CAN – Halleluhwah

I used to listen to a lot of '60/'70s rock, blues and psychedelic music when I was a teenager. I had a special passion for 'kraut-rock': bands like CAN and NEU! had a huge influence on what later would become techno.
This song in particular has a sick rhythm and progression.
2. The Orb – Little Fluffy Clouds


Such a classic. This tune has been essential for my education: as I was coming from mostly rock / acoustic music, that's where I started getting into eletronic music. It was quite a natural progression.
3. Tricky – Ponderosa

Basically the reason why I moved to Bristol. Still regularly listen to this album, 'Mezzanine' and all the other classics from that era.
The percussion loop on 'Ponderosa' and the way the two voices blend together is magic.
4) Aphex Twin – Cornish Acid

My biggest musical influence is definitely what journalists call 'IDM'. I don't like the word, but it's useful to describe a number of artists I've always been deeply in love with.
Of course Aphex is one of them, but I'd need a separate article to describe my obsession with him.
5. Autechre – Piezo

🙂
6. Venetian Snares + Speedranch – Molly's Reach Around

First time you listen you'll be like 'what the hell', but trust me this is brilliant: pure sonic rage against the world. This album has a special place in my heart: it was the first time I found punk in electronic music.
7. FKY – Et Hop

Someone will laugh, but I still like this shit. I can't lie, it's part of me and it played an important role in my life. And most of all, it's big fun! French tribe tekno at its best: last 3 minutes are mad.
8. Blawan – Bohla

Early Blawan banger: this tune taught me a lot about music production, especially if dancefloor oriented. It has a sharp groove and such cool percussion sounds.
I actually prefer his latest stuff but I remember spending a lot of time analyzing this tune.
9. Kode 9 & The Spaceape – Portal

That's when I got into dubstep: not sure if it's my favorite tune of the album, but it's stylistically perfect.
It contains all the best elements of the genre plus the unique voice and lyrics of The Spaceape (R.I.P man)
10. 2562 – Enforcers

Another sound system classic, good example of perfect blend between bass music and techno, still unmatched to me.
The beat is unbelievable, but the thing I love the most is the way the dub chord progression grows throughout the tune. It gets me very emotional in the final part.
11. Actress – Jardin

When someone is so deeply inspired, he doesn't need genres or pre-made formulae: it's just music in its purest, most essential form and its emotional power can be immense.
I think every musician should aspire to achieve something like this at some point.
SUPPORT PIEZO::
Soundcloud – https://soundcloud.com/piezopz
Facebook – https://www.facebook.com/piezopz?fref=ts
Twitter – https://twitter.com/_piezo
Photo: Ben Donoghue