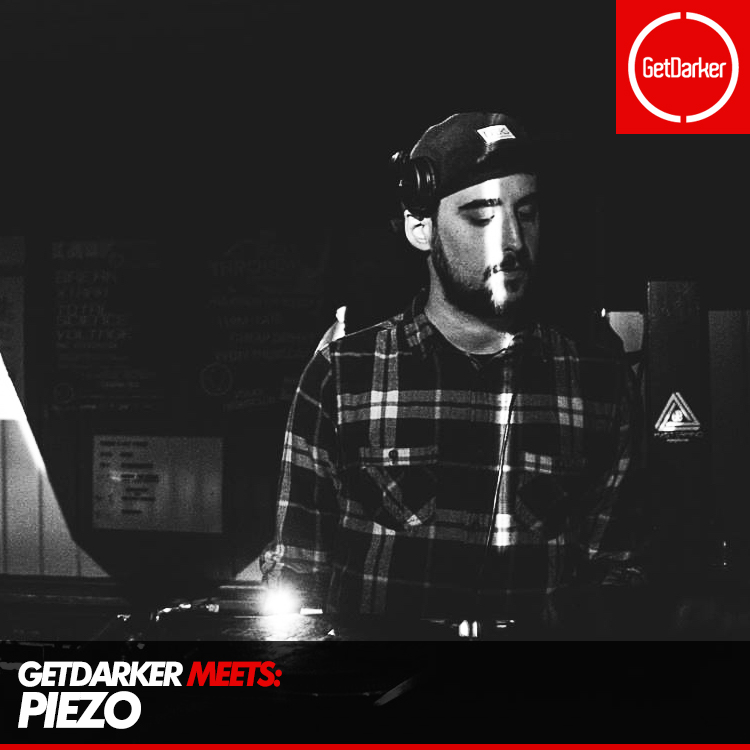 Photo Credit: Ben Donoghue
First up for those who might not know can you let us know a little about how you first got into DJing and producing: did you start in 140bpm music or was it a longer journey than that?
Definitely a longer journey. When I started making electronic music it was mainly hard techno. I've never really been a DJ to be fair, most of the time I was playing live sets at parties: I wanted to play my own music so I thought the most logical thing to do was to use Ableton in a live environment as well as in the studio. I started approaching classic DJing when I first got into dubstep 3 or 4 years ago.
Do you play / produce in other genres too?
Yes I try to do a lot of different music. I don't like the idea of getting stuck in a single genre: I've got a varied background and I love so many different things about music. I have some other stuff I'd like to release at some point. And I also need to understand whether I want to keep this moniker or use another one for that.
There seems to be an ever widening divide between "deep" dubstep producers and the "tearout" sound, but producers like yourself and D-Operation Drop seem to be able to tread that fine line between the two styles, keeping the force and aggression whilst still on that more minimal tip. Is that something you consciously strive for or just how certain tunes productions invariably end up sounding?
I like to think I'm very far from both the extremes now: I'm interested in neither the dark deep sound, nor consumer EDM productions. I don't know if we are in the middle of this division, but it's definitely not a conscious process now. It maybe used to be in the beginning: when I first met the D-Operation boys we both wanted to achieve that specific deep sound and it was a conscious involvement, but it's definitely not like that anymore. I mean, speaking for myself, I even try to avoid listening to 140bpm music now. I try to take influences from other directions in order to hopefully come out with some interesting ideas.
Vinyl is having a bit of a resurgence at present (particularly in the UK) and you seem to have been lucky enough to have had a fair few releases (including the new Artikal single) on wax: Do you feel physical product is still a necessity or is it simply a nice bonus that the labels you've worked with press vinyl?
Well, as I said before, I've never really been a DJ, nor definitely a vinyl head, but I do love physical releases and I think it's good they exist. I have quite a good CD collection and I've always enjoyed the physical dimension, the association of an object to a song. Vinyl is obviously very fascinating: I like to buy and play it, and I'm immensely grateful to the labels that released my music on this format. Another thing I like about vinyl is that you can experiment with the artwork even more than with CDs, and this is something we tried to do with my latest release on Circle Vision (https://circlevision.bandcamp.com/merch/piezo-clearlight-pripyat-ep-deluxe-edition).
I caught Jack Flash, your collab with Lamont on Dusk & Blackdown's radio show recently (banger!) how did that collab come about? How does the dynamic change in your production when working with other producers?
I'm not very good at collabs to be honest and I tend to do it with people that I know and I can physically work with: Lamont was one of the first people I met after moving to Bristol and is a super nice guy. After some time I had these stems done and I thought they were good for him. Glad to know that some heads appreciated the final result. Anyway, generally my dynamic doesn't change at all when working with others so I think I can be very annoying sometimes…
Over the past two of three years I think it's fair to say dubstep has been through some massive changes: there's not as many shows to play and it's become a bit of a dirty word in some circles: How do you feel the scene is currently coping and what do you think might happen over the next few years?
I have no idea. I don't think we can even call it a scene nowadays, can we? People seem to be more concerned about social media hype than going to gigs. There's also too much old-school fetishism in my opinion. I just hope that people will start having a bit more fun and going out to clubs more frequently (not just on special events): on the other hand, promoters and artists should make an effort to create more interesting nights with interesting (and varied) music.
Haha I'm so glad someone other than me says that as well! Anyway looking a little further afield how does the underground music scene in your native Italy compare with the rest of Europe / the world?
House, techno and everything in between is very strong in Italy, also on the underground and experimental level. A lot of very very talented producers coming out from there: you should check at least Herva (https://soundcloud.com/herve-corti) and Chevel (https://soundcloud.com/chevelmusic). Drum'n'bass is still mainly about old jump up style or new commercial shit, so yeah it's almost always shit. Dub & roots has become incredibly strong during the last few years and I'm very happy about that. HipHop / beats is having quite a resurgence too: you should check my friends at Turbo Tape Recordings (https://soundcloud.com/turbo-tape-recordings). Dubstep is basically non-existent: I mean, I know almost all the promoters/producers in the country and they are all awesome people, but there's simply no publicity for it.

How did you first get involved with J:Kenzo and Artikal Music?
I sent him some dubwise tunes a couple of years ago I think. He liked that, so I started to regularly send music through. Up to 'Conquer', which he signed immediately. He's always been a very nice person, so I'm happy to be working with him.
You've released a brilliantly consistent string of 12"s and Eps over the past few years, do you have any plans for a bigger project (ie album) at all or do you prefer the shorter format for production?
Yes I'd really like to release an album at some point, it's always been my dream. I've got some ideas, but I don't think it will happen soon. What I know for sure though is that it won't be focused on just one genre. And the visual aspect will be very important.
Can you let us in on your creative process a little bit? Do you like to build tracks from scratch or do you take the route of sampling? What sort of approach do you take to getting in your zone creatively?
I've changed my setup a lot recently and introduced some hardware: I find fundamental having a drum machine and a synth now, it's more inspiring. Also the approach has quite changed: I like to start with basic 'live' ideas, record, then edit and arrange in the DAW. I still love samples, sound design and acoustic recordings though.
Finally are there any producers we should be keeping an eye / ear out for in the coming months and if we're ever in Italy where would you recommend for a good rave?
I've already mentioned some cool guys above. If talking about dub/dubstep, I really like Egoless and I'd also like to mention my friend Ago (https://soundcloud.com/agonuma) from Numa Crew: in my opinion he has the best, purest dubstep sound around at the moment and he has some wicked releases on schedule. About parties in Italy: there's a lot of crews with home-made sound systems pushing dub & roots, especially in my home region (Marche). You should check the Bababoom Festival (http://www.bababoomfestival.it/dub/) festival.
Piezo's Conquer / Space Conjectures 12″ is available now via Artikal Music UK
PURCHASE HERE: http://bit.ly/1B2OWru