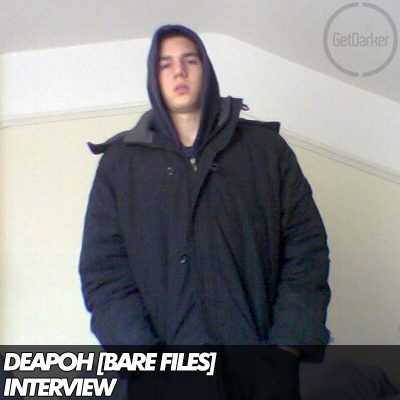 Over the past maybe 18 months I (Municiple of Dubstepforum) have been feeling a deep rumble in the music world, one which satisfies my bass addiction and brings together my love of both electronic music and dub. Dubstep. Born in the UK and quickly gathering a steady international crew, the music is seeing a growth which is fueled by the availablity of a steady flow of dj mixes available for download on the internet. I for one am very thankful for this, because I can hear new tracks and sets as soon as they happen and stay abreast of the development of the sound from around the world.
Barefiles is one such site, and the leader in the game, in my opinion. I am often shocked at how fast our guy Deapoh gets these mixes up… a rudeboy on the situation. I met Deapoh on the Dubstep Forum, and he was kind enough to agree to answer some questions about the site. Big, big up Deapoh and all dubstep crew! Forward ->>>
Name of your site: Bare Files
URL: www.barefiles.com
Your name: Deapoh
Relation to site: Made it / Run it!
Where are you?
Live in the dutty south of London, UK!
When did the site get started?
I originally had deaper.com but that had to be closed due to problems with the web host and their terms and conditions. I was looking for a good web host for ages and then Choppy (from Rinse FM forums) contacted me and gave me a link. So I figured out a name with Choppy and Alkaholik (Also Rinse FM forums) and signed up straight away. Barefiles opened officially 11-Mar-2006.
What inspired you to get the site started?
Darkside really, I wanted access to the audio room and he said I had to share audio… so I setup the site and shared!
How many mixes do you have up currently?
Right now? 517
Do you think that most of the djs on the site know that you are posting the mixes?
Yeah I text most of them when they're on radio, or send PMs and try to tell them.
Do you ever hear from them?
Yeah quite a few get in contact asking if I can record or host their shows.
When and how did you first start getting into Dubstep?
Used to go to Big Apple Records years ago, started buying grime there and Hatcha got me into Dubstep.
Do people ever think your site is a porn site (bare, and all)?
Hmm no!
I know that I know you from the Dubstep Forum… are you into any other music scenes?
I like Grime but then again Dubstep and Grime are very close. Also listen to Hip Hop and DnB but not as much as the other two.
Where do most of your mixes come from?
Do you record them, or do people send them to you? The main man Boomnoise, he has recorded and sent loads to me. Also Hova records many grime sets. The rest are usually from people who record a couple times and I found the links or if I record them myself.
About how many downloads do you get a day, would you say?
The stats worry me. I fear looking at them at the end of everyday. The average amount of files transferer per day is 32gb and my monthly limit is 1.2 TB. I'm worried that soon I'll have to take down the site for a few days to stop traffic. People like Burial (850+ downloads) and Skreams shows (1800+ downloads all together) really use up the bandwidth!
Any super crucial mixes that people should go directly to?
Yeah definitely the sets Darkside with Raw Ones, Wiley & Tinchy Strider, and Skream b2b Mala b2b Chef. Very big shows.
Which producers/tracks are you really feeling these days?
Kode 9 – 9 Samurai. Very big tune. Feeling Quest, Skream, and without question Digital Mystikz. Also watch out for Zomby, up and coming with some big big beats.
Where do you see Dubstep going in the 06?
I see the scene getting much bigger and the sounds expanding and getting a bit more complex but still in a simple way if that makes sense!
What do you have planned for the future on barefiles.com?
I'm thinking of setting up another server to help with bandwidth and the amount of files. Making the mixes available on CD where the customer only pays for the CD and postage. That way I don't think I would be breaking any laws or have to pay tax! Definitely will ask for donations but they won't be required.
In addition to running tings are barefiles, what else you have going on?
I pretty much sit around playing games, chatting to people, listening to music and DJ. I go to college once a week studying music production etc but thats a minor.
Anything you would like to add?
Catch me every monday 6-8pm GMT on www.subfm.com.Think we covered everything, my fingers hurt!
Big up to… Alkaholik, Atari-420, Baraka, Bok Bok, Boomnoise, Cfour, Chef, Choppy, Darkside, Doomstep, Luke Envoy, Mersh, Messer, N-Type, Rokotiili, Tom, Tronman and Zomby. They're the main people, the rest that are on my MSN, big up!
Original Source: http://beatsgratis.blogspot.co.uk