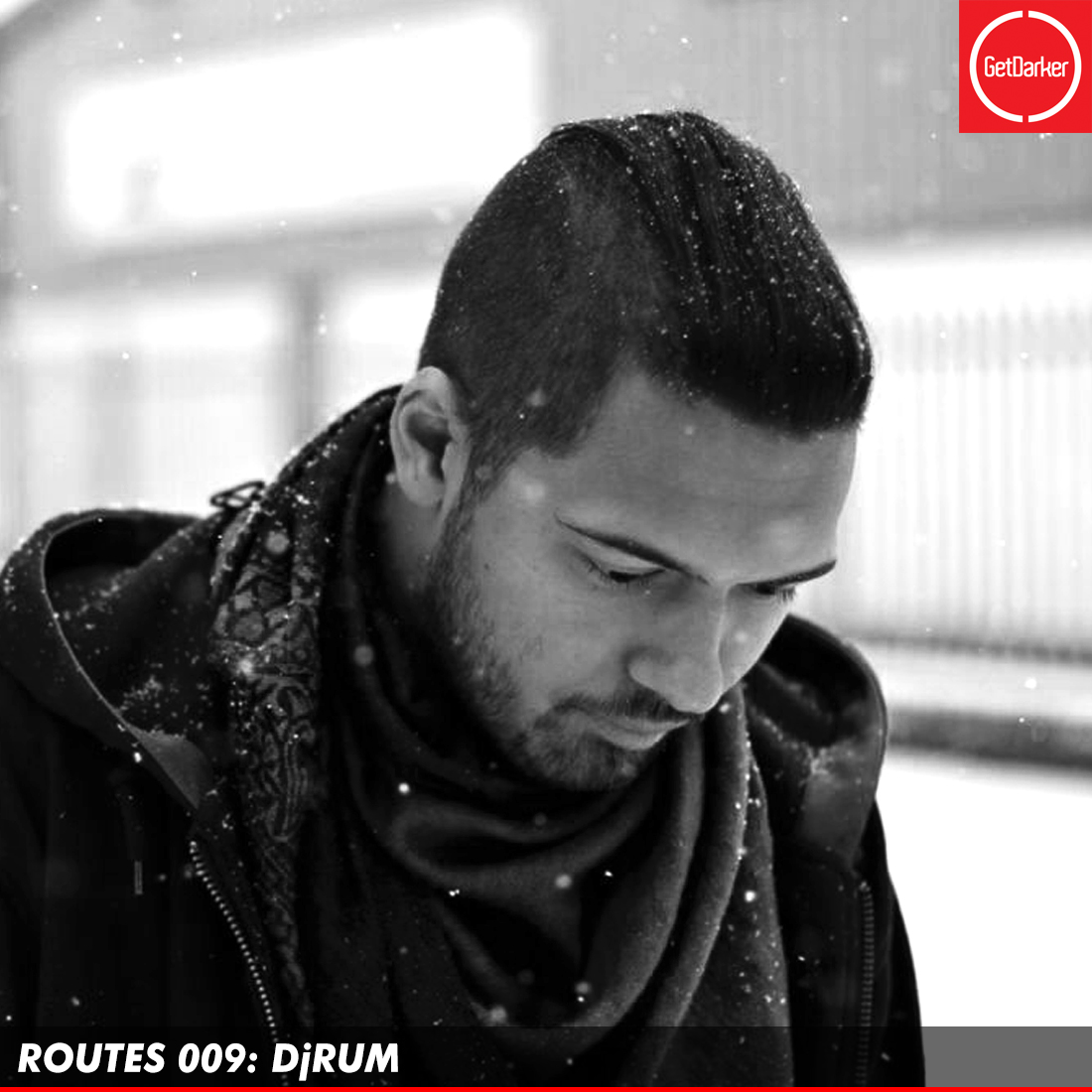 For our 9th Routes episode the one and only DjRum offered us his 12 tracks that have influenced and inspired his productions down the years.
"I've really focused on tracks that have influenced my production style. The focus is on "produced" music rather than music in general, so there is more of an emphasis on electronic music than a list of my general influences would be. There's a Congo natty track that I really wanted to include but I have no idea what it is called. I scoured the internet and can't find any reference to it anywhere. The Congo Natty back catalogue doesn't seem to be well documented at all. I have the tune on a white label as the B side to Binghi Man, but it's not either of the remixes usually on the flip of Binghi Man."
01. Kruder & Dorfmeister – Roni Size – Heroes (Kruder's Long Loose Bossa) (1997)
When I first discovered the K+D Sessions it really changed my outlook on music. They really showed me how some quite simple ideas could be teased out over a fairly long track. I think it's really clever how sparing the vocals are: you don't hear the full phrase "I don't know no heroes" until 5:20 into the tune. The way that the delays trip over the top of the shuffley percussion is really hypnotic.

02. Krust – Re-Arrange (The Cinematic Orchestra Remix) (2000)
The Cinematic Orchestra really stretch the idea of a remix. I'm hard pressed to spot even a single element from the original track. I love the atmospheric quality of this track and all of Cinematic Orchestra's work pre-2000. The structure of this track is great too: the way it leads up to the drop halfway through without building too obviously.
03. Quasimoto – Return of the Loop Digga (2000)
http://grooveshark.com/s/Return+Of+The+Loop+Digga/pLyVb?src=5
It's the structure of this track that's I love so much. He manages to pack in so many ideas in to such a short track; it really tells a story. The whole of The Unseen is amazing. One of my favourite albums of all time and a MASSIVE influence. The production is so basic and raw. Every time I listen to it I'm reminded how effective that can be.
04. Susumu Yokota – Fearful Dream (2001)
http://www.deezer.com/track/9867079
This is from another of my favourite albums of all time… and it's another example of great storytelling through a progressive musical structure. The flow from one passage to the next feels very filmic.
05. Murcof – Memoria (2002)
Murcof's first album has been a big influence on me. His approach to sampling specifically. I think this is the first time I had heard very digital sounding sample based music. Up until then I had been used to hearing raw vinyl samples on hiphop and triphop records.
06. Digital Mystikz – Awake (2004)
When I first got into Dubstep the way I thought about production totally changed. This was the first time I became really interested in low end frequencies, and the first time I became interested in making club focused dance music. Although my focus has since shifted, this was undoubtedly a turning point.

07. Burial – Southern Comfort (2005)
This EP came out at a time when I was focusing my attention much more on dancefloor music, and whilst it was my favourite record at the time it didn't have a direct influence on my production until a few years later. Burial's use of Foley is so good!

08. Svarte Greiner – Boat Depardieu (2006)
The music Erik Skodvin makes as Svarte Greiner has been deeply influenced my production. The way that he creates depth and texture by layering both melodic and non-melodic sounds is breathtaking. Texture is always a big consideration for me when I'm making music.

09. Pangaea – Nest (2007)
I was mostly listening to wonky techno, breakcore and heavy dubstep in the mid 2000s. When this EP came out I was reminded of my love for atmospheric music again. The understated approach to production here was something I was very unfamiliar with at the time, and I found it captivating. The track seems so minimal, but the more I listened to it the more I realised that there's a lot going on.

10. Rockwell – Underpass (2009)
Drum and Bass has always been a love of mine, but for many years there didn't seem to be much new stuff that interested me all that much. Then in the late 2000s things started to get really interesting. Rockwell in particular opened up a whole approach to percussion programming that was totally fresh and really inspiring.

11. Kreng – Na De Sex (2009)
This is the opening track of Kreng's masterpiece L'Autopsie Phénoménale De Dieu. I'm really captivated by the sound palette Kreng uses. Lots of avant-garde orchestral and jazz samples put together.
12. Fis – Duckdive (2012)
What really inspires me about Fis's work is the way he blurs the boundaries between melodic, textural and rhythmic elements. His approach to sound design is really impressive.

DjRum's new release Plantain B/W What I Was Doing When I Was Doing What I Was Doing is out now on digital & vinyl via Samurai MusicPurchase::
Vinyl – http://bit.ly/1AWIGuA
Digital – http://bit.ly/1GjWW4Y