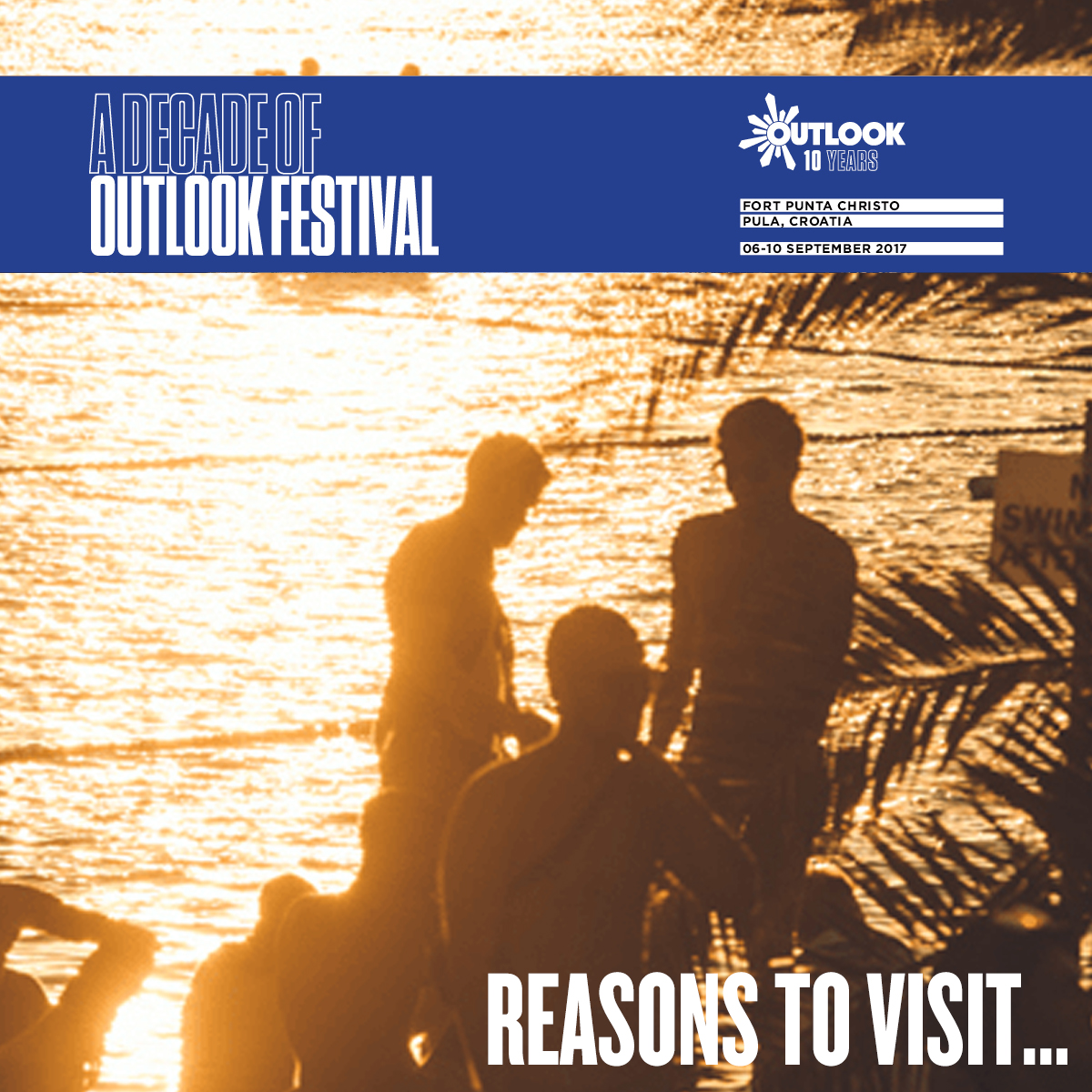 Reasons To Visit Outlook Festival This Year
Reasons, there are many reasons why you should visit Outlook Festival this year but to list all these reasons would make for a long article and as we all by now know the digitised Millennial Generation is one which cannot consume long to long-ish articles.
So allow me to explain simply some of the reasons you should definitely be attending Outlook Festival in this, it's tenth year.
Firstly few, if any, festivals, do music like Outlook. Quantity wise they offer a huge array of acts and genres, not to mention boat parties. Check this year's line-up and you'll find yourself spoiled for choice.
Music there pretty much runs non-stop: Official acts start at 9pm and finish at 6AM. The daytime beach parties start at roughly noon and run till 6pm so you're covered all day. With Outlook's quantity of music it truly is a skank, sleep, eat then skank again kind of routine.
Quality wise, you'll never find a better way to experience music than Outlook. The festival is loaded every summer with an artillery of sound systems which are transported specifically for the festival. The boat parties at the festival also give a rare chance to get truly close and intimate with your favourite DJ's. It's on a boat too so they can't run away as they tend to do after standard club nights.
Visually it's also an incredibly cool festival. It's located on an abandoned 19th century castle in the Croatian city of Pula, and it plays all manner of bass rooted music (Reggae, Grime, Jungle, DNB, and Dubstep).  Random awesome things always sporadically happen at the festival. First time I went, I recall D Double E emerging onto a beach party adhoc and spraying bars, whilst the Don't Flop team were in the crowd having a lovely time.
The second time I went there, I recall MC DRS igniting a random stage riot and getting all the party goers to jump up and vibe with him on stage: much to the annoyance of the Croatian security guards.
The third time I went there… The third time I went technically is a typo, because my third visit has not happened yet. But it will be happening this summer.
There's also the rich history of the GetDarker gang with the festival. Since the very first year we've always gone in ten toes: from pirate boat parties and stages to generally causing a scene, we've done it all.  Check out some highlights below then impulse buy tickets to Outlook's tenth year.
So whilst I can't say now what awesome things might sporadically occur this coming year at Outlook I can say I know Outlook enough to know that this year will no doubt have something special up it's sleeve. It is their tenth birthday after all.
FULL OUTLOOK LINEUP & TICKETS HERE