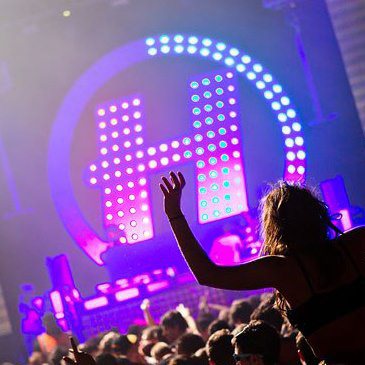 Each time Hospitality graces Leeds O2 Academy with it's presence the night is guaranteed to raise hype. After the success of May's sell-out event it was clear Hospitality would have to up their game and oh my did they deliver!? With live sets from Camo & Crooked, Danny Byrd, Netsky, Nu:tone b2b with Logistics, London Elektricity, High contrast, S.P.Y, Tomahawk, Koan Sound, Gemini, Mensah, Funtcase, Chasing Shadows and Bar 9 all on the line-up it was sure not to be a disappointment.
All areas were covered with top artists from both the Drum and Bass and Dubstep scenes playing across two rooms.
Hospitality is brought to us courtesy of Hospital records and is arguably one of the biggest and best Drum and Bass nights around. The event is somewhat a rarity, so far only occurring three times this year in Leeds and with such powerful hosts there is no confusion as to how the night ends up being unmissable.
The atmosphere in the main room was buzzing and everyone was ready to party hard. Looking around, the dance floor was already packed, O2 Academy has a capacity of 2300 and when we arrived at midnight it can't have been far off. There were people dancing on the balcony up above and the crowd was beginning to merge into one bouncing wave of energy. The stage was filled with visual effects and subtle colourful lighting displays flashed throughout the room successfully setting the mood. Bars lined the walls along with fast-moving queues and the smoking area was rammed with smiling, excitable bass heads.
One of the moments from the night that stuck out in my mind is Danny Byrd dropping a Breakbeat version of Nicky Blackmarket's Sweet Harmony; the entire dance floor lit up and started moving together. As to be expected Netsky's set was off the hook, I can't say too much about it as I was too busy dancing to make mental notes, my bad; likewise for High Contrast. In my opinion the set of the night would have to be awarded to Camo and Krooked, which seems only fair seeing as it was their 'Cross The Line' album launch. Accompanied by Ayah Marah and Messy MC they rattled the room and bodies of Hospitality goers with their ridiculously sick set list.
The vibe in Room One was incredible, the whole crowd was ecstatic it was hard to tear myself away although I did go to catch some of Chasing Shadows set in room 2, it was a much smaller space but the atmosphere was just as good with deep dark Dubstep sounds vibrating through the room. By the time London Elektricity were on free cups of water were being lined up on the bars. Dynamite MC and Lowqui were hosting for London Elektricity keeping people hyped and involved. S.P.Y had the finishing set and provided a perfect end to the night playing a mixture of upbeat and chilled out tunes to warm down the crowd.