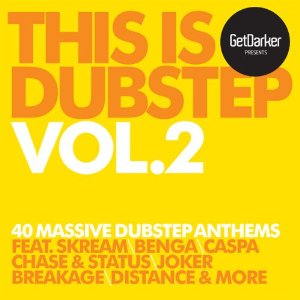 The wait is finally over! GetDarker presents This Is Dubstep Vol. 2 – the follow up to the most successful Dubstep compilation of its time is now out in stores!
Volume 2 takes the series to the next level by showcasing all angles of Dubstep music, from the biggest names in the scene, including Skream, Benga, Caspa, Chase & Status, Breakage, Distance, Joker, Cyrus and many more.
Picking 40 tracks from nearly a decades worth of amazing music was a hard task, but we got there! There are stunning tracks that are new, plus, 15 unreleased beauties!
The album is due out on the 29th March, 2010 – and will be available from HMV, Play.com, Amazon and other leading retailers for both, CD's and digital downloads.
Formats: 2 x CD and Download (unmixed + 2 bonus DJ mixes from Darkside).
Disc 1
Hard – Breakage Feat. Newham Generals & David Rodigan (Caspa & The Others Remix)
Memories Of 3rd Base – Skream
Eastern Jam – Chase & Status
Eyetunes – Benga
Twilight – Distance
R U Ready – Drumsound & Bassline Smith (Dubstep Mix)
Lights – Tunnidge & Cyrus
Purple City – Ginz & Joker
Rob Sparx – 'Arcade'
Cardiac Attack – Demon
Oxygen – Ruskspin & Planas
Seeerious – Noah D
The Future – Benga
Get Up & Rock – DJ Hatcha Vs Lost
Chemical Reaction – Fused Forces
Space Ugly – Ikonika
Stuck – Numan
The Gift – Way Out West (Tek-One Remix)
In The Background – Cyrus
iLL – Chasing Shadows
Disc 2
Could This Be Real – Sub Focus (Joker Remix)
Descending – Benga
Rhythm – Jakes
Where's My Money – TC (Caspa Remix)
Insanity – 501
Ghosts N Stuff – Deadmau5 Feat.Rob Swire (Nero Remix)
Pan Pipes – Benny Page
The Chant – Benga
Red Rum – Cyrus
Turn Me On – MRK1
Henry – Fused Forces
Eruption Dub – DJ Potentz
Victim Support – Distance
Distorted Life – Unitz
Casino – Rob Sparx
Junk Yard – Cyrus
Laser Treatment – Hindzy D
Afterlife – Lung
Hurt You – She Is Danger (Subscape Remix)
Ogor – LD