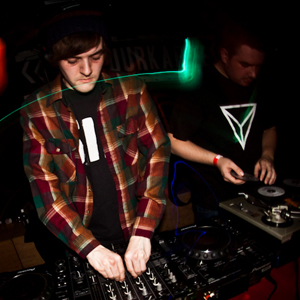 So whats been happening?
S: Just finished baking a massive cake with Oreo butter icing and made a lovely step sequenced drum rack. I've also been working on some new stuff under a different alias for the past few weeks which I'm quite excited about.
D: Quite a lot actually, I've been collecting and making some new samples for new material as well as my sample pack series. I've also been working on some new music and some collabs with a producer from the USA which should be finished soon.
Whats your studio setup right now?
S: My set up is pretty basic to be honest, I've really got into Ableton this year, along with a couple of new MIDI bits (Akai APC20 & LPD8) which have turned out to be great for sound design aswell as live dubbing. I really like all of Abletons standard plug ins, the only other things I use are the Fab Filter stuff, Saturn is awesome. I used to use NI Massive for most of my sounds, basses and pads etc but since getting Live 9 earlier this year I've been getting my head round FM synthesis with Operator. I've been using it to make everything for the past 6 months or so now, it feels really good to know a whole track came from the same four oscillators. I think it's a good thing to have a basic studio set up, you don't get lost when you have fewer options and you spend more time mastering one or two things rather than having limited knowledge on lots of different plug ins, although I am looking into some analogue stuff for next year.
D: I'm currently running a PC with Cubase 7.5, a tonne of VST's, a little AKAI LPD8 midi controller and some Alesis Monitors which I know like the back of my hand. I just got a bunch of stuff from FXpansion that I'm really excited to have a play with also.
Are you both producing more so as solo artists right now? And if so why is that?
S: Yeah I think we have been kind of drifting in different directions over the past couple of years, I don't think we've finished anything together for ages. I've been getting back into more Techno sounding stuff, making straight up Techno as well as trying to re create that sort of sound at 140bpm.  We should probably get back on it.
D: Yeah, I don't think it was really a conscious decision though. Back when we started working together we were in the studio 7 days a week, since then we have more things going on in our personal lives so it's a little trickier to both be around at the same time. That isn't to say that we've completely stopped making tunes together though and we do still regularly meet up to talk about what the other has been up to.
Tell us about "Resurrection EP"
S: We only decided to release these tracks about a month or so ago because an opportunity came up in the Chestplate release schedule to squeeze them out on a digital only format. The tunes we picked were never going to come out at all because we would rather focus on newer stuff than tunes from 2 or 3 years ago. My favourite track from the EP has to be 'Psychosis'. When we wrote it we were really happy with it, there was nothing like it around at the time and I think that's why nobody was playing it back then. It's definitely one of those tunes that makes people shout 'Fuck off' whenever I've played it. I think people are still confused by it though. Also 'War' and 'Resurrection' still work really well on the dance floor.
D: Resurrection EP is six songs that we wrote around about the peak of when we were both actively working constantly. I'm pretty sure they were all written fairly close to each other. Some tracks such as 'War' came together almost instantly, others such as 'Psychosis' we spent a bit more time on, working on the edits. It's probably why the latter is so messed up. We are both quite protective over our music, and up until now only 1-2 of those tracks ever went further than a couple of DJ's. They've all been played at nearly every show we've both done though.
2013 has been an interesting year for Dubstep, how do you feel about the scene right now?
S: Well obviously there's been a lot of negative talk this year about the direction the scene is going in and people talking about certain sounds or styles becoming boring or stale but if I'm honest, I just stay away from it, it's all just talk. I'm not really interested in peoples opinions on music, or any art for that matter, whether it's a review or a forum post or whatever, it doesn't matter because its just somebody else's opinion. Music is a subjective art form. If someone on the internet says a sound is shit or dead it doesn't mean a thing. It's just one persons opinion. But yeah, it has been weird this year, I could talk for days about how I feel about the scene in 2013 but I'll stop here before my opinion upsets anyone ha.
D: It's been a bit of a strange one hasn't it? It's not a new genre anymore though and I think people are forgetting it's nearly ten years old so there's bound to be people that decide to give other genres / tempo's a go. There's been lots of great releases this year and it seems like with dubstep out of the mainstream spotlight there's more room for the experimentation and underground thing to happen again. I can't help but laugh at some of the negative comments that have sprung up this year, but that's probably down to my sense of humour more than anything.
Who makes the best slow roasted pork dish?
S: I haven't actually tried Dan's recipe yet but if I'm honest I can't see it being as delicious as mine. He doe's make an excellent coffee though, I will give him that. Superb.
D: Ha ha! I don't know, I haven't had chance to sample Alex's and nor he with mine. I think a Chestplate cook off is in order (Distance does a mean one). I can assure you that my pulled pork is difficult to rival though.
Cubase or Ableton?
S: I was always a massive fan of Cubase but since trying out Live 9 I have to say Ableton. The way it's designed seems to be geared towards creativity rather than engineering. I love the layout and the way you can get your ideas down really quickly. The built in plug ins are great compared to Cubase and the way the FX chains work is really cool. My favourite features are the racks though, drum and MIDI effects racks have changed the way I write music. The only thing I haven't been too impressed by is the sound engine but maybe It's just taking me a while to get used to it, I'm still mixing down on Cubase.
D: Cubase, although I did give Ableton a try midway through the year and it's great for some things, I prefer cubes.
What's your your most memorable gig of 2013?
S: That's a tough one, I remember them all! Obviously Chestplate @ Fabric and Osiris @ Subdub in Leeds are always good but the recent Chestplate take over in Ghent with the Daily Dubstep guys was pretty special. Also my weekend in Sarajevo (where I played my first proper Techno set) and Istanbul earlier in the year was amazing. But yeah, I remember them all.
D: I think the Chestplate night at Daily Dubstep in Ghent was the one for me. Everyone played great sets but Cyrus' old school set just ticked a few more boxes and reminded me of those goose-bumps I got from first hearing dubstep. I wish it had been recorded, it was the best set I've seen all year.
<
Sleeper & District – Resurrection EP is out now on Chestplate. Get it
here