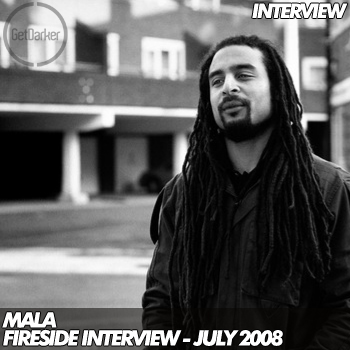 Mala speaks to Emma Warren for the Fireslide Interview, RMBA, July 2008.
Mala is one half of Digital Mystikz: South London's finest purveyors of meditational bass weight. Dubstep originators, producers, DJs as well as label owners and promoters, they unleash a dense concentration of dubwise good vibrations that would make Jah Shaka and Aba Shanti equally proud.
Being longtime friends from South London, Mala and Coki began with a shared love of jungle, dub, roots reggae, garage and house. Together they began forming their own distinct styles of music. Championed at the infamous FWD>> nights, their Pathwayz (on Big Apple) and distinctive, fresh music like Mala's Neverland, Anti War Dub or Coki's Stuck and Shattered, began raining down on unsuspecting Londoners and the rest of the world in no time.
It goes how it goes, and the Mystikz' own label DMZ is kind of a flagship now and has become a figurehead imprint for this thing called dubstep. The London institution Soul Jazz is also fond of them, together with their mate Loefah, they release on Aphex Twin's Rephlex label and run a self-titled label night in deepest Brixton. Their bass weight meditation is spreading far and wide.