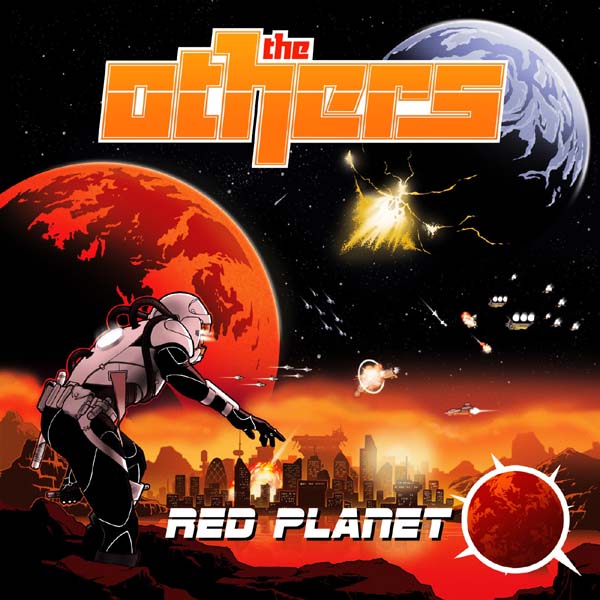 • How did the album title "Red Planet" come about?
The plan was to basically try and write a sci-fi film score. I still wanted all the tracks to work in the club and still have my sound in there but with that added futuristic space feel to tie it all in together. The track itself 'Red Planet' was made quite early on in the project and it seemed to really work as a title for the album, it sounds like it could be a good film also.
• How did the concept behind the artwork come about?
Again it all ties in with the whole concept within the music. The guy who does the artwork at Dub Police (www.arezz.be) is really good at taking the idea that the artists have and taking it beyond what we can imagine. I explained to him what I wanted with the artwork and he has hit the nail on the head, I'm so happy with how it has turned out.
• What song has had the best reaction when playing out?
All of them have been getting a great reaction to be honest. I think 'Fallout' has really been the big dance floor track so far and also 'Stargate' has been going down really well lately.
• What track are you most proud/ pleased with on the album
I'm proud of the whole thing, it would be hard to say just one track. But maybe I think 'Stargate' best sums up what the album is all about.
• The Album has a real euphoric feel to it, have you taken any influence for your sound from trance and if so what artists?
Yeah I kind of dig some trance stuff, but no artists in particular stand out. I wouldn't say I've directly taken influence from any one track or artist within trance but I think there is tracks on the album that have a really euphoric feel about them.
• What was your most memorable moment whilst producing the album?
I'm not sure, the writing process all seems to be a bit of a blur because its taken such a long time to write. Writing 'Fallout' with Emalkay was pretty cool, I went up to his place in Birmingham and we spent a lot of time watching Korean films and eating junk food but somehow managed to get a track written in between all of that.
• With some massive collaborations on the album from Joker, Emalkay & Breakage, who would be your favourite artist to collaborate with moving forward into 2013?
I've always enjoyed collaborating with other people in the studio. It's so interesting to see how other people work and just having someone there to bounce ideas off is great. I've been writing a few ideas with Subscape lately which we've been meaning to do for a number of years and have finally got round to it so I'm sure some or all them them will start to see the light of day in 2013. I think you have get to know someone a bit first before you jump in the studio together otherwise you'll be afraid to say wether something is working or not without offending them. If you get to know their tastes, influences and their way of writing it can make the whole session flow nicely.
• The futuristic feel of the album hints to me you are a Sci Fi Fan, is this true are you a Closet Trekkie? Wookie? Fill us in!
I do love sci-fi films but I've never been like super nerdy about them like some people are. The two biggest sci-fi franchises Star Wars and Star Trek I was never particularly in to actually (although I do a pretty accurate Chewbacca impersonation), they are both cool but not quite my thing. I'm more in to some low budget films, more sinister or lesser known stuff films as well as classics like 'Bladerunner', 'Alien', 'Twelve Monkeys' etc.
• Writing album tracks is different to writing singles. Did you find this a challenge? And if so how did you overcome it?
Yeah for a long time it was hard to see the finish line and was challenging to see how the whole project would come together, but then eventually things just started to fall in to place and the project just seemed to all come together. Properly the most frustrating thing was not realising music for a quite a long period of time and the stuff I was writing I was having to hold down and not give out to anyone or share with people because it was being held back for the album.
• Having smashed it with this album what's next for The Others in 2013?
As I said I've got a few collabs in the works as well as my own solo stuff and some different styles and tempos which I've never done before. I want to try and follow up with something relatively soon, maybe an EP or something but nothing set in stone at the minute. But for the moment I'm just enjoying writing new material and I'm just going to let it all fall in to place naturally.
• What music have you been feeling recently and who is your artist to watch for early 2013?
I try to listen to as much as possible, new and old. And there's so much good music coming from every corner of the dance spectrum at the moment, it's so exciting to see how everything is evoking and merging in to one big melting pot. I'm really feeling what 'Other Echoes' is doing at the minute, he's just had an EP out on Hospital and it's a good example of of what is going on with music in the UK right now, all the barriers and genre tags are being broken down and people are just concentrating on writing good club music.
• With Christmas fast approaching where and what will be the Christmas Party you are most looking forward to?
I think it would have to be my album launch at Fabric on the 21st December. Caspa, Breakage, Subscape, Dismantle, Trolley Snatcha, Mydas, Gomes, IC3, Ken Mac, Crazy D and LX One and myself in Room 1 with Metalheadz and Doctors Orders in the other rooms. There's no doubt it's going to be huge vibes across the whole club that night!
• How's your Christmas shopping going?
Compared to usual I'm pretty in control of the whole thing. I knew this run up to my album launch was going to be a busy one so I got as much as possible out the way whilst I could. I've got a really big family so it's like a military operation trying to get everything done but I'm ahead of the game this year!
The Others – Red Planet is out now on Dub Police
Words: Simon Murphy