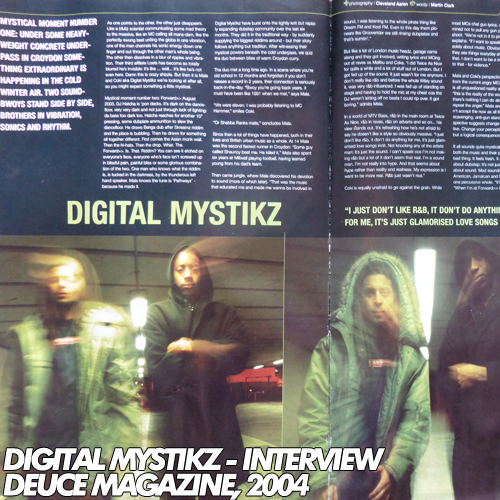 MYSTICAL MOMENT NUMBER ONE: UNDER SOME HEAVYWEIGHT CONCRETE UNDERPASS IN CROYDON SOMETHING EXTRAORDINARY IS HAPPENING IN THE COLD WINTER AIR. TWO SOUNDBWOYS STAND SIDE BY SIDE, BROTHERS IN VIBRATION, SONICS AND RHYTHM.
As one points to the other, the other just disappears. like a (dub) scientist communicating some mad theory to the massive, like an MC calling all mans-dem, like the perfectly swung beat uniting the globe in one vibration, one of the men channels his sonic energy down one finger and through the other mans whole beginning. the other then dissolves in a blur of ripples and vibration. the third affiliate Loefah has become so totally blurred he's invisible: its like …. well….its like his not even here. Damn this is crazy shizzle. But then it is Mala and Coki aka Digital Mystikz we're looking at after all, so you might expect something a little mystical.
Mystical moment number two: Forward>> August 2003. DJ Hatcha is 'pon decks. its dark on the dancefloor, very very dark and not just through lack of lighting: da base too dark too. Hatcha reaches for another 10″ pressing, some dubplate ammunition to slew the dancefloor. He draws Benga dub after Skreamz riddim and the place is bubbling. Then he draws something all together different. First comes the Asian monk wail. Then the hi-hats. Then the drop. What. The. Forward>> .Is. That. Riddim? You can see it etched on everyone's face, everyone who's face isn't screwed up in blissful pain., painful bliss or some glorious combination of the two. One man who knows what the riddim is, is tucked in the darkness, by the thunderous left hand speaker. Mala knows the tune is 'Pathwayz' – because he made it.

Digital Mystikz have burst onto the tightly knit but rapidly expanding dubstep community over the last six months. They did it in the traditional way – by suddenly supplying the biggest riddems around – but their story follows anything but tradition. After witnessing their mystical powers beneath the cold underpass, we quiz the duo between bites of warm Croydon curry.
The duo met a long time ago. In a scene where you're old skool in 12 months and forgotten if you don't release a record in 2 years, their connection is seriously back-in-the-day. "Bwoy you're going back years. It must have been like 1991 when we met," says Mala.
"We're were eleven. I was probably listening to MC Hammer," smiles Coki.
"Or Shabba Ranks mate," concludes Mala.
Since then a lot of things have happened, both in their lives and British urban music as a whole. At 14, Mala was the second fastest runner in Croydon: "Some guy called Shauncy beat me. He killed it." Mala also spent six years at Millwall playing football, having learned young from his dads team.
Then came jungle, where Mala discovered his devotion to sound (more of which later). "That was the music that educated me and made me want to be involved in sound. I was listening to the whole pirate thing like Dream FM and Kool FM. Even to this day them pioneers like Grooverider are still rinsing dubplates and that's sumtin'."
But like a lot of London music headz, garage came along and they got involved, writing lyrics and MCing out at raves as Malibu and Coke. "I did Twice As Nice for quite a while and a lot of stuff out of London. But I got fed up of the sound. It just wasn't for me anymore. I don't really like RnB, and before the whole Wiley sound it, was very RnB influenced. I was fed up of standing on stage and having to hold the mic at my chest coz the DJ wernt letting off no beats I could rip over. It got boring, "admits Mala.
In a world of MTV Bass, RnB in the main room at Twice As Nice, RnB in raves, RnB on adverts and so on….his view stands out. Its refreshing how he's not afraid to say he doesn't like a style so obviously massive. "I just don't like RnB, it don't do anything for me, its just glamorised love songs innit. Not knocking any of the artists man: its just the sound. I cant speak coz I'm not making RnB, but alot of it don't seem that real. I'm a sound man, I'm not really into hype. And that seems about hype rather than reality and realness. My expression is I want to be more real, RnB just wasn't real."
Coki is equally unafraid to go against the grain. While most MCs chat gun lyrics, standard, he was determined not to pull any gun poses in the Deuce photo shoot. "We're not in to promte any violence," he explains. "If i want to speak to anyone about music, its solely about music. Obviously little children see things, they see things everyday and we dont need to add to that. I don't want to be a role model – if it ever comes to that – for violence."
Mala and Coki's perspective seems a paradigm shift from the current MCs. The world of aggi lyricists is all unquestioned really and aggressions. Theirs is: " this is the reality of the world i found myself in and there's nothing i can do about it, except portray and repeat the anger." Mala and Coki's are different: it doesnt accept the now as all there is. Their global sonic scavenging, anti-gun stance and mystical dubwise perspective. Change your perception and change around you is but logical consequence.
It all sounds quite mystical, almost Rastafarian even, both the music and their perspectives, but that's no bad thing. It feels fresh. It also illustrates whats good about dubstep: It's not just about dun anymore. It's abut sound. Mad sounds, Oriental, African, Asian, American, Jamaican and British sounds, all mashed into one percussive whole. "Its a natural thing," says Coki. "When im at Forward>> I listen to the music but I don't think that's a good idea and I'll copy it'. When I go home and sit down in front of the computer its something I feel from within."
Equally Mala declares himself "a sound man" repeatedly during the interview like its a personal philosophy and a spiritual mantra rolled into one. "Music's about meditation and education. If it ain't doing the two for me then I don't really get involved," he declares.
What Mala knows is that sound is more encompassing concept that the lyric. Its free, or free-er, from constraints, from a given time, place and community. It bypasses your thoughts to directly resonate your emotions. "Its not imposing any kind of impression on you. Words evoke response. If someone's singing a love song, that's making you feel a certain way, but with the Forward>> sound, its sound."
Coki agrees: "Music…its not something you can always explain. Its not like philosophy where you can say 'this is this' and 'this adds up to that.'"
Digital Mystikz 1st EP is out on Big Apple now. 'Adultz Only', Heartless Ninja', Chamber Music' and 'Bee' are currently on dub. Look out for Loefah's 'Indian Dub' and Babylon'.
Source: Deuce Magazine, January 2004.
Words: Martin Clark (Blackdown)