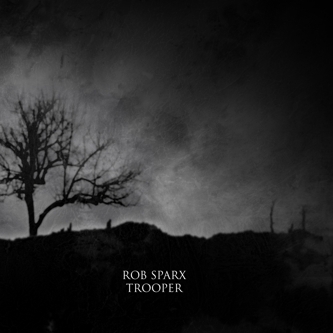 Rob Sparx's name has been next to enough massive dubstep tunes over the past year that anyone reading this has at one time or another been properly mashed up thanks to him. Along with this is the fact that the majority of his vinyl releases for the most part tread on ground well worn by countless other producers. It's because of these two things that I went in to this review feeling like I would have a good understanding of what was in store for me and I can say now that I haven't misjudged an album so severely in a long time. Trooper is a well crafted mix of tracks that run the gamut from soulful to contemplative to aggressive and back again and was not at all what I expected.
The remarkable thing about Trooper is how so many of the tracks pull in sound and influence from Rob's experience producing in other genres. The backbone of the album is the standard 140 bpm halftime rhythm but it's what he uses to build upon that foundation that makes much of this album unique. Trooper's second track, Black Sheep is a nice mid-tempo start to the album that drops in to a 4×4 beat halfway though before switching right back to its original two step flavoured rhythm. Later in the album on Bloodbath picks off elements that you might find in any number of techno tracks, mixes them in with a rolling bass line that produces a sound that's dubstep via techno of the highest calibre. Probably the best example of this blending, and my favourite track on the album comes on the re-dub of The Prayer. Sounding more like it came from down tempo than dubstep this new and improved version takes a much more relaxed approach to the conventional dubstep rhythm, blending it with more unconventional atmospheric elements resulting in a sound that really stands alone.
This isn't to say that the album isn't without its faults. Tracks like Messiah Dub and Stroller both follow the usual dubstep conventions which may make them more appealing to the general dubstep audience but ultimately results in them having a difficult time holding up to some of the albums more dynamic tracks. The albums biggest failing though comes in its last three songs. Fully Booked, So Good and Wildlife have Rob showing off some of his non-dubstep productions. I appreciate that he can, and has, released tracks that weren't straight up dubstep however all three of these songs felt a little out of place. Had these been with other tracks on a second disc I wouldn't have minded them but Trooper had done such a great job of finding it's groove and staying true to it that ending in such a way was a real let down.
The fact that Trooper lacks anything resembling sludge or Attack of the Wobble is going to disappoint some but it would be a shame to discount this album simply because of that. Rob Sparks is a talented producer and that shines through on just about every song. Trooper stands out as some of the best dubstep production of Rob's career and a fantastic album to kick off your summer.
Words by .Spec
Trooper is out on the 1st June on CD (ZAUDIOCD001)