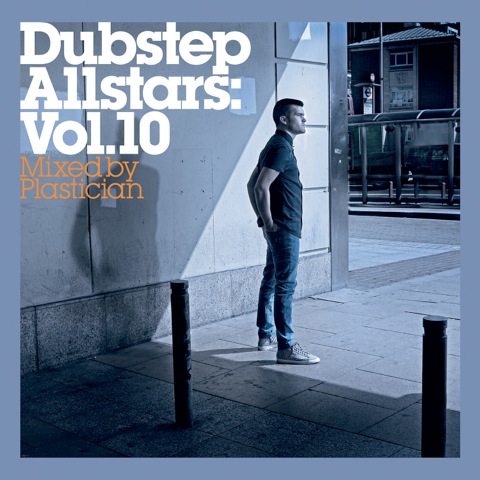 Tempa don't do things in half measure and their iconic 10th Volume of Dubstep Allstars is no exception, There was only one man who could step up and take on the task & that was the mighty Plastician, we caught up with him recently to tell us more about the album and what he has planned for 2013!
---
Hey Plastician. Can we call you a pioneer?
I was around from the beginning and did my best to support the sounds my friends and I were playing in Croydon at the time! If that's pioneering then I guess you could say yes, but there were people around me who had a much greater part to play in the structural build up of the early days for sure.
So who else needs a mention when we are talking pioneers?
I hate having to list people's names on things like this as you always forget people, so aside from the obvious people like Artwork, Hatcha, Skream, Benga, Horsepower, El-B etc. I got to give props to people like Jay Da Flex, Oris Jay, Zed Bias – often forgotten how much of a big part those guys played in the early days at FWD. Also, people like Walsh and N-Type, who, aside from Hatcha were the only DJ's who had a show on pirate radio (Delight FM) at the time when people like myself, Skream and Benga needed support on the airwaves for our productions. Also, without the work of Sarah Lockhart and Neil Joliffe at Ammunition promotions (who ran labels like Tempa, Road, Soulja… and started the FWD night), Rinse FM and John Kennedy at Big Apple Records I don't think the sound would have taken shape in the way that it did back then. We were all young kids and those guys were the guiding force behind a lot of the stuff we were putting together on computers in our bedrooms – they provided the platform we needed in a time before the internet and gave us all the support we needed to build careers out of our art.
OK! So if we discuss the new album out now. most important question, if you had to pick any stand-out tracks on the album what would they be and why?
I love the Jaydrop tracks on there. I think for me they take me back to the old Horsepower sound quite closely and that always reminds me of the first time I actually made sense of the real dubstep sound back in 2001. I love the grainy movie samples in the tracks and the subtle changes in the patterns that were often missed when you just listened to them at home. I remember hearing Benny Ill play at FWD one of the first times the club was moved into Plastic People after the migration from Velvet Rooms. Until that point I never quite understood the intricacy of his production – as a DJ who was leaning more towards the grimy end of the garage spectrum, a lot of the more subtle dark garage like the stuff El-B and Horsepower were producing went straight over my head – I liked it, but couldn't quite place it in my sets so much, so whilst I was collecting the records I wasn't making much use of them. But that time I heard Benny at FWD I remember standing in the far right corner of the club which was half empty in those days, and I remember for the first time experiencing the strange little sounds in his tunes popping off in the percussive sections, from left to right. As a youngster who was just finding his feet in production, this actually made me think a lot more about my own use of panning and percussion. I had such basic knowledge that I wasn't listening to how interesting all those dubbier tracks were and was just listening to them with my own sets in mind which at the time were with a lot of MC's, I was always on the lookout for something a little more obvious and it was after hearing Benny play at FWD that I finally grasped how these tracks would work in my own sets – and that lead me onto playing more eclectic sets without MC's which formed the backbone of the beginning of my proper DJ career.
Who was your choice for breakthrough artist of 2012?
It's a tough one. I can't be 100% sure who that is for me. A lot of producers have had big years. Also, given my own selection is from a wide variety of sounds I'd find it difficult to choose one person in particular. I think in terms of breakthrough though, I've been playing a lot of Preditah's tracks and would probably pick him out. He's a grime producer who knows the importance of bass – a lot of grime producers lean more towards the hip hop edge of the sound but Preditah uses all those synths sounds that remind me of the old Wiley productions. I liked the resurgence in the 8 bar sound last year and for me Preditah had some of the best tracks. With regards to the dubstep end of the spectrum I think Laxx has some serious heat as well and will be one to watch in 2013.
And who do you have locked on your radar for 2013?
Again, Laxx like I mentioned! Also really excited about the stuff Mojo and Stinkahbell have been sending me – they both seem to be coming into their own in terms of style and their versatility means you never know what to expect from them! I'm working with an artist called AWE who is really talented and I'm certain will move onto really big things. Also, a double act called Clicks & Whistles who are insanely talented and almost genreless will definitely be gaining some pace in 2013.
What advice would you give to aspiring producers listening to this album at home?
My advice would be to make music that makes you happy. It's easy to be sucked in by sounds and scenes with the internet being such a big influence now. But so long as you enjoy making the music you want to make that's all that matters. Being original obviously is the next step – taking the parts from all the different styles of music that excites you, and combining them somehow to work well together in a track.
The Allstars Series celebrates the scene in a special way, but what has been the biggest moment for you in Dubstep?
I'm sure most people will agree that the exact moment Mala had to jump on the mic at the DMZ birthday in Mass, and ask that people move upstairs to the bigger room because there were hundreds of people outside waiting to get in was the exact moment that changed everything. We were used to playing to 40 or 50 people, in whatever venue we were playing at around that time. Suddenly there's about 500 people trying to get into an event. Definitely got to give props to Mary Anne Hobbs for her Dubstep Wars program on the BBC a few weeks previously to that night – it definitely opened the door for a lot of electronic music enthusiasts into the very much underground movement that Dubstep was at the time.
You seem to be playing the US a lot at the moment. How do you find the crowds and reception you get in the UK compared with America?
I don't think there's much difference for me personally. The crowds both in the UK and USA are very young at the moment at the majority of gigs I'm playing. Most nights are multi-genre so the crowds are mixed. With the more traditional dubstep events in the UK, you still get an influx of old school heads who appreciate you taking it a little deeper, or a little bit grimy. Since I've been in the USA the past month, I feel that a lot of the crowds turning out for the artists who are over from the UK are there in hope you're going to do that as well. I think the crowd in the USA shows for UK artists is a little different to the crowds that may turn out for a lot of the US based acts. Dubstep has blown up so much in the states that a lot of the new generation don't even know who I am, so generally if people turn up to see me play a show in the USA, they have been around for a long time and appreciate that I'm going to play the full spectrum – in turn hopefully this will bring more fans on board to the various styles on offer, as I feel a lot of them are only exposed to the harder edge of the scene out there by a lot of promoters. The same thing is happening in the UK though, it's a strange time at the moment where the whole thing could go really well, or really badly for people like me who are trying to play more diverse sets as opposed to championing one style.
What did you think of HMV closing down, and do you think it will have a positive or negative effect of the industry?
I really don't know. I don't think it'll have much of an effect though. I think 99% of people who actually pay for music these days will buy it online anyway. And the other 1% will still take a trip to an independent store if they live near one – sadly not many people any more!
What have you got planned next?
Loads planned for Terrorhythm this year. Lining up a few releases with various new artists. The biggest project at the moment is remastering all the old Plasticman tracks that have never been released digitally though. I'm also having lots of them remixed by some of my favourite producers. Zomby has done Cha, and Preditah is doing Shockwave. I'm sorting lots of remixes out for that, but won't expect that to be ready for a few months yet – it's a big project and I'm having to work hard through various old hard drives to get the originals bounced properly out of various versions of FL Studio from yesteryear. I want the originals to sound exactly as they did so trying to bounce them straight back out of the old versions they were written in is proving a hard task! It's surprisingly difficult to find a working copy of Fruityloops 3.56 which was the version most of my early grime tracks were written on. It was fun re-opening tunes like Pump Up The Jam in Fruityloops 3 though. You forget how iconic that TS404 sound was to the tunes people like Skream and Benga were making in 2000 / 2001. It was never the same after that version of the software.
Remember you can catch Plastician on Rinse FM every Wednesday @ 9 pm GMT! The Dubstep Allstars Album is out now and you can buy it here.