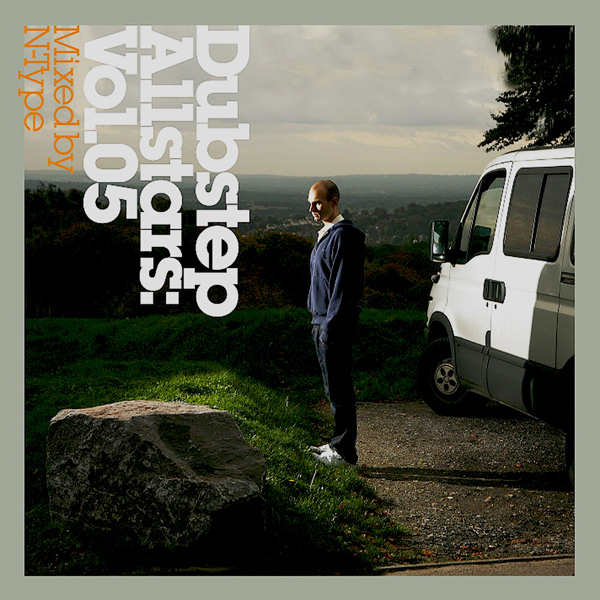 For the uninitiated, dubstep is the most recent incarnation of that modern British desire to weld new, innovative sounds onto Jamaican soundsystem culture. Where in the 1970s the best British speaker stacks were employed to roll out imported reggae sevens, they're currently being used to excellent effect by dubstep's ever-expanding army of DJs, producers and devotees. The sound has now grown out of its roots in Croydon, south London and is fast becoming a worldwide phenomenon – last month more than 60 people travelled from Europe and America to DMZ's influential bi-monthly night. Now we have the latest instalment of the excellent Dubstep Allstars compilations, created by 24-year-old N-Type, aka Mark Newton.
The DJ and producer, who grew up in Surrey, has included the hardcore of original dubstep producers – tracks by 20-year-olds Skream and Benga, who have been making staggering music since their mid-teens, will burrow themselves inside your cranium and rotate mercilessly – but there are also gems from dubstep's new international contingent. Finnish producer Tes La Rok shares compilation space with San Fran's Juju, while no compilation showcasing dubstep right now would be complete without the anthemic American-built '50,000 Watts' which sounds like Public Enemy swallowing a volcano. It's such a massive record that it literally blew the electrics at London's key dubstep weekly, Fwd>>.
In comparison, the last Allstars instalment, mixed by scene originators Hatcha and Youngsta, only featured one artist who didn't come from Croydon – west London's D1. N-Type's DJ style is instantly recognisable; the mix, which was created using an old-fashioned Technics SL1210 turntable and a bag of exclusive records, crams 35 tracks into an hour, playing two minutes of a hectic grime track such as SLT's 'Splurt', a snatch of Hijak's old-school garage-referencing 'Tears' and 40 seconds of Kromestar's 'Kalawanji 2'. It's a hyper-kinetic DJ style that links N-Type back to the rave and jungle DJs who took over the pirate airwaves over a decade ago. Appropriately, N-Type's also a radio DJ, hosting a Sunday night show on the once-pirate, now internet-based Rinse FM, where you'll hear arcane banter ('hold tight the 613! Hold tight Grand!') and an up-to-the-minute snapshot of dubstep's good-times wing.
Finally, a word of warning: it's almost not worth listening unless you're prepared to turn it up loud – part of the appeal is in the almost physical impact of the music and played on your kitchen CD player N-Type's ravey take on dubstep will just sound like a racket. But loud, it sounds like dubstep's recent inroads into popular culture are just the beginning.
Tracklist:
1. Hatcha & Benga – Torment
2. LD – Swing Dat Skirt
3. Coki – Not Today
4. Benga & Coki – Night
5. Kromestar – Slow Reaction
6. Landslide vs. SLT Mob – Splurt (Skream rmx)
7. Benga – Drumz West
8. Skream – Chest Boxing
9. Quantum – Unknown
10. D1 – Malfunction
11. Kromestar – Darth Soul
12. Coki – Volvic
13. Benga – Electric
14. N-Type – Way of the Dub (Casper rmx)
15. Magnetic Man – Soulz (Benga rmx)
16. Distance – Radical
17. Uknown – Burnin'
18. Pinch & Distance – Memory Loss
19. Magnetic Man – Alright What's Happenin'
20. Skream – Make me
21. Coki – Ruff Lovin'
22. Juju – Punks
23. Tes La Rok – Lickashot
24. Kromestar – Kalawanji 2
25. Tes LA Rok – Roll Out
26. Magnetic Man – Ligma
27. Matty G – 50,000 Watts
28. Benga & Walsh – Bingo
29. Benga – Back in the Day
30. Benga – Crunked Up
31. Hijak – Tears
32. Coki – Red Eye
33. Coki – Soundboy
34. Kromestar – Coca Cola
35. Coki – The Sign
36. The Others – Flapjack Dub
37. Rusko & Casper – Custard Chucker
38. Benga – The Fittest

By: Emma Warren, Original Source: Guardian.com