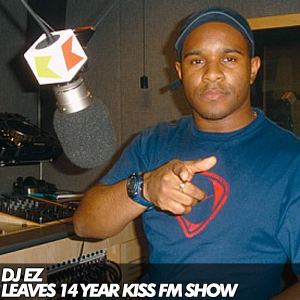 Anyone who knows me personally, will know I am without question, EZ's biggest fan (happy to challenge anyone who thinks otherwise); and have been for some 15 years.
14 of those 15 years, we've had the luxury of hearing EZ weekly on Kiss FM, but of course hearing is not even close to seeing him, but you'd be daft to not compromise right?!….well, lets hope he's tee'ing up an Essential Mix maybe? Darkside.
Tonight, EZ announces he will no longer present a weekly show on Kiss FM UK (official statement below).  

DJ EZ – Last Kiss FM show – 28/08/2014 by Getdarker on Mixcloud
Listen to EZ's first ever Kiss FM guest mix from 1998 here
OFFICIAL STATEMENT
My weekly Kiss FM UK Radio Show comes to an end..

Firstly, I'd like to say a MASSIVE thank you to everyone who has locked into my weekly Kiss FM show. If you were one of those who took part in the show by sending a message, or just a die-hard undercover listener, again I thank you.

It's been an absolute honour to host a weekly show on Kiss FM UK for the past 14 years. It's enabled me to bring the very best music from the world of UK Garage, Bassline, House and the many other sub genres of the bass music sound to the loyal fans.
To all those that have supported the show, to the artists who have inundated me with the freshest new beats and exclusives, and to Kiss FM UK for providing such a great home for the show, I salute you.
This summer has been phenomenal. It's the year I made my USA debut, plus regular and new events across Europe. I'm also just getting ready to embark on my first Asia tour in conjunction with Mixmag which is exciting!
Kiss FM UK is a station that I hold close to my heart but with my current touring schedule (and time to focus to get back in the studio to work on productions) I've had to make one of the toughest decisions yet.
From Thursday 4th September 2014 I will no longer present a weekly show on Kiss FM UK.
I've decided to place my weekly Kiss FM radio show on hold, but I will be making guest appearances on Kiss when I'm in the country. While the touring schedule is so hectic, it's just not feasible to be in the UK every Thursday for the live show. I must send some love to Winston as I will miss our weekly banter, you have been a co-host of the finest calibre and of great assistance during the show!!
I'm also currently looking at other ways to reach out to you the listener therefore I will keep you updated on future radio appearances and where you'll be able to obtain new mixes from myself in the near future. I hope to meet the many more Garage fans across the globe and welcome your thoughts for future radio shows.
Once again, I thank you for your continued support…
DJ EZ.