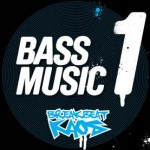 Bass Music 1 is the first compilation of a series to come from heavyweights BreakbeatKaos. DJ Fresh and Adam F founded the label in 2003 and have since pulled together an impressive discography including releases from Pendulum, Chase & Status, Camo and Crooked, Sigma, Brookes Brothers and Nero.  Bass music 1 is merely the beginning of a showcase of the highlights from those past 8 years.
After releases from such huge artists on one of the most successful drum& bass labels to date, it is no shocker that the tracklist for this compilation is far from average. Packed full of chart topping tunes and remixes, Bass Music 1 provides a selection of the best drum and bass, dubstep and mash-up sounds to come from BreakbeatKaos.
The compilation consists of new and old music including some classic Chase & Status, a VIP mix from Sub Focus, old school Pendulum tracks, remixes from the likes of Caspa, Flux Pavillion, Sidney Samson andHerve, it features Missy Elliot and of course has tracks from the men themselves Adam F and DJ Fresh. The tunes are sure to attract a wide audience and with there being 25 of them, there is no doubt you are getting your money's worth.
BreakbeatKaos Bass Music 1(BBK001BM) is due for release Monday 3rd October 2011 via digital download.
Anna