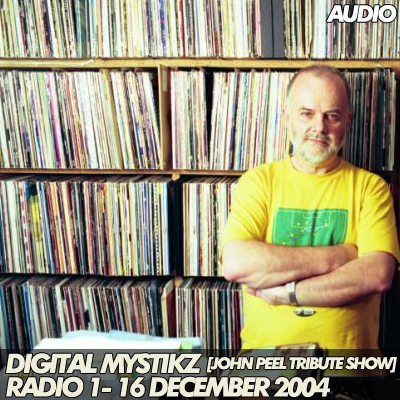 FROM MALA'S ORIGINAL MYSPACE POST
In 2004 the late, great John Peel contacted me, saying he was enjoying my music. So I said I'll send him dubs. I did and true to his word he played them on his Radio 1 show. He would play Digital Mystikz exclusives. He was the first person to champion the sound on national radio, regardless of how underground it was. He also played some Digital Mystikz tunes which to this day have never seen a release. He also played tunes by others like Distance, Vex'd, Mark One aswell as few more producers back then….
So much was happening in 2004, so much music getting made so much love amongst a unit a producers/dj's and listeners. A community I was pleased to be a part of, it became my life.
On 16 December 2004 Radio One broadcast a huge show which was in tribute of him. The show went on for hours and many artists like The Undertones, Orbital, the Cure, New Order, Supergrass, Robert Plant, Underworld, Siouxsie Sioux, the Buzzcocks, Damon Albarn, many more also took part.
I was lucky enough to be asked to play Live. This was the 1st time to play on any radio station and my second live dj set. As nervous as i felt, it was an honor and a great privilege to close his tribute show which was recorded with Annie Nightingale at the BBC's Maida Vales Studio's.
A moment i'll never forget.
Rest in Peace John Peel and thank you. An Originator in the purest sense.
Broadcast Live on 16 December 2004 on BBC Radio 1

Digital Mystikz [John Peel Tribute Show] – Radio 1 – 16/12/2004 by Getdarker on Mixcloud
TRACKLIST
Augustus Pablo – Revolution Dub (Greensleaves)
Digital Mystikz – Intergalactic (DMZ)
Digital Mystikz – Give Jah the glory (Tempa)
Kode 9 – Kingstown Dub (Hyperdub)
Mala – Changes (Deep Medi)
Digital Mystikz – Neverland (DMZ)
Digital Mystikz – Da Wrath (VIP Mix) (DMZ)
Digital Mystikz – Crystal Lake (Dubplate)
Digital Mystikz – Stuck (DMZ)
Digital Mystikz – Save Me (Dubplate)
Digital Mystikz – Mood Dub (DMZ)
Loefah – Root (DMZ)
Digital Mystikz – Ital (Dubplate)