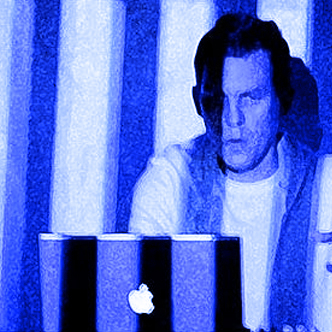 Arthur aka Artwork (now a member of Magnetic Man) gives us the lowdown of the scene from day one to the current period, mentioning Big Apple Records, along with the label, and of course production from Benny Ill to Skream & Benga…
Interview for GetDarker / DJ magazine dubstep feature
---
Do you think dubstep thrives on the element of secrecy and exclusivity?
No necessarily secrecy. Exclusivity – it's just like yes, someone always got something someone else wants. There's always arguments going on – in a nice way. Someone will have a new dubplate on Friday and then everyone, that's all they want. They go crazy for that one record.
Like what? Give us an example…
There's loads – I don't even know what there because people won't tell me. As soon as one comes out, someone who knows someone will put it up on the internet and everybody knows it. You might have finished a record on one week, you play it and people know it.
Is that the case with records like Coki's Spongebob?
Without a doubt. There's only a couple of people who know him [Coki], who know what it is. Some records we've got lined up are not out but people know exactly what it is. They know the schedule better than we do. Everyone knows! We haven't released it but everyone knows what's coming. There was little mix up with two of the names at the pressing plant and people knew about it before we did. We pressed up the record… and they were like 'that's not that'! It's really weird.
Has that changed since the early days?
What' good is the fact that it's very, very quick. Now because if you've got a good record and you get it played it's a hit immediately. When I started you had to really push something.
How easy or hard is it to have a big record in dubstep?
I used to see the d'n'b things where it'd be very hard. If you weren't one of the top guys you couldn't get your stuff heard. If someone came along – anyone – and says I've got a good record, it'll get played. It's a much more open scene. We just heard a track off this guy no-ones everyone heard before. Benga rang me up…. you don't know him and we signed him straight away. Two releases time. Can't say who 'cos it'll ruin things.
How international is it?
I get calls from people in Germany and Australia and America, It's great. It's really good. It's taken off this quick. With this scene it's one of the fastest growing ones. It's because of the internet. When you used to see this in other scenes you'd have a scene going off in London or Detroit and it'd take four of five years to come over. Now it's exploding all over the world at the same time
How have you seen that yourselves?
When we just did an Apple party at FWD. They'll come for a special event, they'll travel. We had people from Scotland. I was like 'what are you down for?' They were like ' we came for this!'. There were loads of people. It was a shame it wasn't a bigger venue. We're looking at doing bigger things. We're looking at doing some live stuff. It's down to how good the DJs are.
Are they so good because they're veterans with five or six years experience under their belts by the time they're 20?
Yes, and because they know each other and they're coming up against each other they're trying to outdo each other. That's where music gets interesting – they're trying to out-weird each other and come up with crazier sounds. That's where it gets interesting. They have to get something for every Friday night. That's why you're fast turnover of good music.
How prolific are they?
Three or four a week? When I spoke to Benga and he'd made six tracks in a week.
We've talked about what's been good over the last 18 months. What's been bad?
I can't see any negatives.
What's happening with the Big Apple label? Next releases?
Coki, Magnetic Man release. Plenty of new tracks.
What was so good about the shop?
John Kennedy started it and it was house and drum & bass on the two floors. It's a weird thing, because the customers were Hatcha, Benga, Skream, Benny Ill, N-Type, Coki, Mala, Loefah, Chef, Cyrus and Darkside. Everybody shopped there. It was really, really great to see. Everyone'd be in there Friday afternoons and Saturday was really busy in there. It was sort of like… there was obviously people spending money … but the shop on a Friday night was packed with our friends. We had a couple of parties there. Hijack worked at the shop, running the jungle floor. He used to sell records to a 2 ½ ft Hatcha when he was about nine. He couldn't see over the counter, in his school uniform. He was buying drum & bass. He was working in the shop straight from when he left school at 16. He was playing really dubby garage and they [Skream and Benga] were trying to make those records and they kind of come up with that sound.
I know Croydon was a hub – there was other music happening elsewhere in London, Leicster and Manchester – but what was it that made it happen?
It wasn't really Croydon, it was the shop. If you'd had that shop anywhere else it'd have been there. There were no dubstep clubs in Croydon. It wasn't a very good place for that. The venues wouldn't let you do it. The music was born for radio and to be played at FWD. It was 50:50 between radio and FWD, when it was at the Velvet Rooms. FWD was a big outing on Friday nights. Because it was a big outing, we used to hire limos because they were cheaper than minbuses. There was 15 or 20 of us every week, so rather than hiring minicabs so we used to get four dodgy white limos. We used to get some funny looks pulling up.
What about your stuff?
They still play the Menta stuff. Me and Danny Harrison… we had our studio above the shop. That was the whole thing. When Benga and Skream came up they'd sit with us in the studio. We'd be making Menta tunes and they'd be hanging out. We had our own little club up there. It's a wicked little place to go if you're that age – a record shop with a recording studio upstairs. Think they used it a couple of times, they were always in there anyway.

From the off the learning curve was really fast from when they first started bringing in minidiscs of things they done on the PlayStation to a year later their records are the things that were being played. From then on, it accelerated.
I know you can't pick favourites but which Skream and Benga records have really blown you away?
2D. He hasn't even heard Detroit records. Things like the Benga and Coki's 'Night' – it's brilliant. It's mad, for a record that hasn't been sold let along come out. You're talking about something that isn't even out and people are singing it on a bus in Israel.
What was the link between Hatcha and Tempa/Ammunition?
Benny Ill used to come in the shop. Back in the early garage days he was trying to make garage but he was putting the snare on the wrong beat, on the three beat. It made it more like … he loves dub reggae.. he was making dub reggae garage. We were like 'this is weird' but Hatcha loved it but Hatcha called it dubstep. It was Benny Ill that started it, without a doubt. He used to bring the tracks into us. We were so used to the garage sound and he'd come in with this record with the beats on the wrong beat and Hatcha used to play them on then radio. It was very dubby and it wasn't 2 step.
Emma Warren