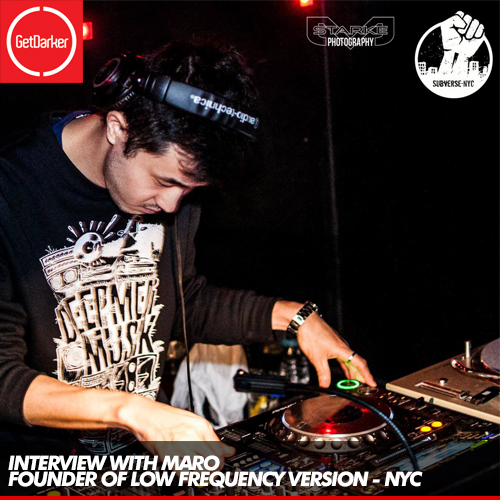 This Saturday (12th Sept) we touch down in Brooklyn, New York City. In 2015, we find ourselves uniting again like we did back in 2006 when this  journey started. I wanted to acknowledge our invitation is from a new team, who operate as Low Frequency Version, and to work with them, on the first of their many planned events is a privilege.
I spoke to Maro, to get a little more detail on him, and their ethos.
If you are in town, come and join us – for you outta towners, we are streaming this event live on GetDarkerTV.
What is your motivation behind Low Frequency Version? And whats the ethos? Timescales (bi­monthly etc)?
I used to run an event called Low End NYC which was mainly focused on Dubstep. Low Frequency Version is another side of Low End NYC more focused on reggae, dub influenced music.  As for where the name Low Frequency Version derives from, as many of you know for example artists like King Tubby often referred to his dub as "~~~~~ Version". I wanted the name to reflect that aspect of Low Frequency Version being the B side of Low End NYC.
We plan shows when we are able to bring high quality vibe to shows. Sometimes we have 2 shows in a month, sometimes we don't have any shows for 6 month. The timescales are pretty random.
It is often tempting for a promoter to stick with mainstream options…..you haven't…
Honestly, it doesn't really matter for me whether or not the music is underground or mainstream. The music I want to do in my show just happens to be underground.I play the music which moves my heart.
Here in London, we are limited to few, good venue's ­ what's your view on NYC ́s scene and venue
There are many venues in NYC from small ones to big ones. But often it is difficult to find stable venues, for dubstep and bass music event. We usually need a lot of sub and low end frequency response from the speakers. It is difficult for some venues to let us bring the sound reinforcement, because of neighbors. That makes it difficult to find a venue. Also bar guarantee is another factor in deciding a venue. Venues with high quality house sound systems usually require high bar guarantees. So we really have to consider all the aspects.
Outside of music, how do you describe what you do to someone who doesn't know you?
I'm the guy who likes to create. I love cooking. My weekends consist of going shopping for ingredients to cook up a meal. My recent accomplishment is an squid ink spicy tomato pasta with manila clams.
What's the coolest thing in your house?
My small vinyl collection. I've been buying vinyl since 2003. I've bought a lot of vinyl, but I've also sold a lot of vinyl. I have only about 100 vinyl in my home, but these are all my favorites.
Would Yori agree with you on that too?
Yes, she also loves the sub phatty by moog which is my recent addition.
Am I right in thinking you studied at Dubspot? can you tell us more?
Yes, I took classes at Dubspot around 2012­2013. I took music foundation, sound designing and Mixing and Mastering classes. I learned the basics at the dubspot. I had never learned music from anyone for the first 5 years since I started studying music, so it was definitely a good experience. In the beginning of the class, I felt a big gap between other students and myself. I learned a lot of things from other students.
After I finished learning at Dubspot, I started learning from former dubspot instructor Raz Mesinai aka Badawi. I learned composing and mixing techniques from him which were quite interesting.
Is there a plan for the second event?
The second event as Low Frequency Version is on the 19th of September. a week after the GetDarker show. It is called Low Frequency Version 002 Dub session vol 1. It is more focused on reggae and dub music. Of course we will play dubstep too. But some DJs only spin reggae and dub. But it doesn't mean that I want to force artists to play only reggae and dub. If artists want to play only reggae and dub, they are welcome to the dub session.
Also I'm planning Low Frequency Version 003 along side Max Mischief in November. It will be a collaboration event with his event Noctem. Max Mischief is a good friend of mine and always love to work with him! We currently finished booking artists and are just preparing for the first announcement. It is going to be a big one. I'm looking forward for that!!
What are your musical influences and what are your favourites outside the dubstep/dub genre?
My favorite genre outside of dubstep/dub is Soul/Funk, Jazz and Jazz Funk. James Brown is one of my favorite artists of all time. I love War. Funkadelic and Parliament. I listen to Bill Evans and Herbie Hancock when I want to relax for dinner. It is not Soul/Funk, Jazz or Jazz Funk, but Jimi Hendrix's Red House is one of my favorite songs!!!
Darkside
Event Info: https://www.facebook.com/events/815444111872219/
We are streaming this event live on GetDarkerTV