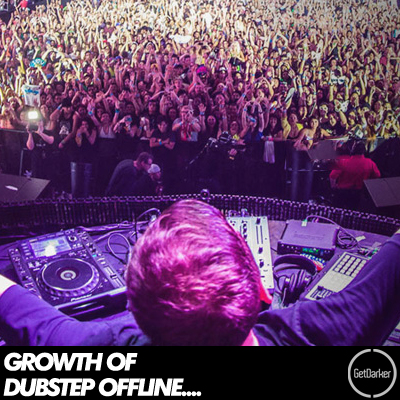 The growth of Dubstep has constantly been accelerating at an exponential rate pretty much since the birth of the scene way back in the early 00's. Several different catalysts are either to be blamed – or rather – actually thanked for their roles in pushing the sound. The main one being the Internet. It's amazing how anyone can freely access material even they happen to be logistically challenged.
Bulletin boards, social network websites, blogs, file sharing networks – there never has really been a time where things have excelled at such a rate – freely without constriction, initial capital investment, or effort. This includes that unsigned artists can get their music heard easily with little to no cost.
But what else is out there that is helping the progression of the scene? A lot of people seem to overlook the importance of festivals and other rave-esque events rather than your standard small 500 capacity club night. Music policies at these larger venues play a huge importance in keeping the life and the atomsphere in the club alive as well as giving variety for the regular punters and still attract new ones.
Hospitality at Matter is a prime example of a club night that is catering for something beyond it's own typical crowd. Usually at Hospitality there is a strong Drum & Bass lineup in room 1, representing the home turf Hospital Records of course – with the exception of Beardyman who performed live at the recent Hospitality (7th November 2009).
Room 2 however is what draws our attention. On the regular Hospitality draws in a different set of characters, constrasting greatly from the liquid funk sound being pumped out of the impressive sound system in room 1. Many faces have appeared behind the controls in room 2, mixing with different genres and styles of music from your Autonomic, D&B, Jungle, Hip Hop and down into the deepest Dubstep. It's these room 2's that can fast track a DJ into higher demand and make their music more well known as ravers get the chance to listen to and appreciate something for the first time if they never had the chance to before.
If you go to Hospitality you will feel a vibe is hard to find anywhere else in London. Just shy of 3,000 revellers shocking out to some of the best music Matter has to offer is unreal – even if you aren't a D&B fan. Hospitality is also aesthetically pleasing unlike most places, with the DJ's in Room 1 DJ'ing on a large stage instead of in the provided cage giving something for the crowd to look at and recieve instructions from as if the accompaning MC was a conductor.
Hospitality returns to Matter in January just after the new year with more Dubstep on the roster this time! A few familiar names such as Rusko, N-Type and Reso will be performing at the venue on the night and there will even be a house set from Zinc!