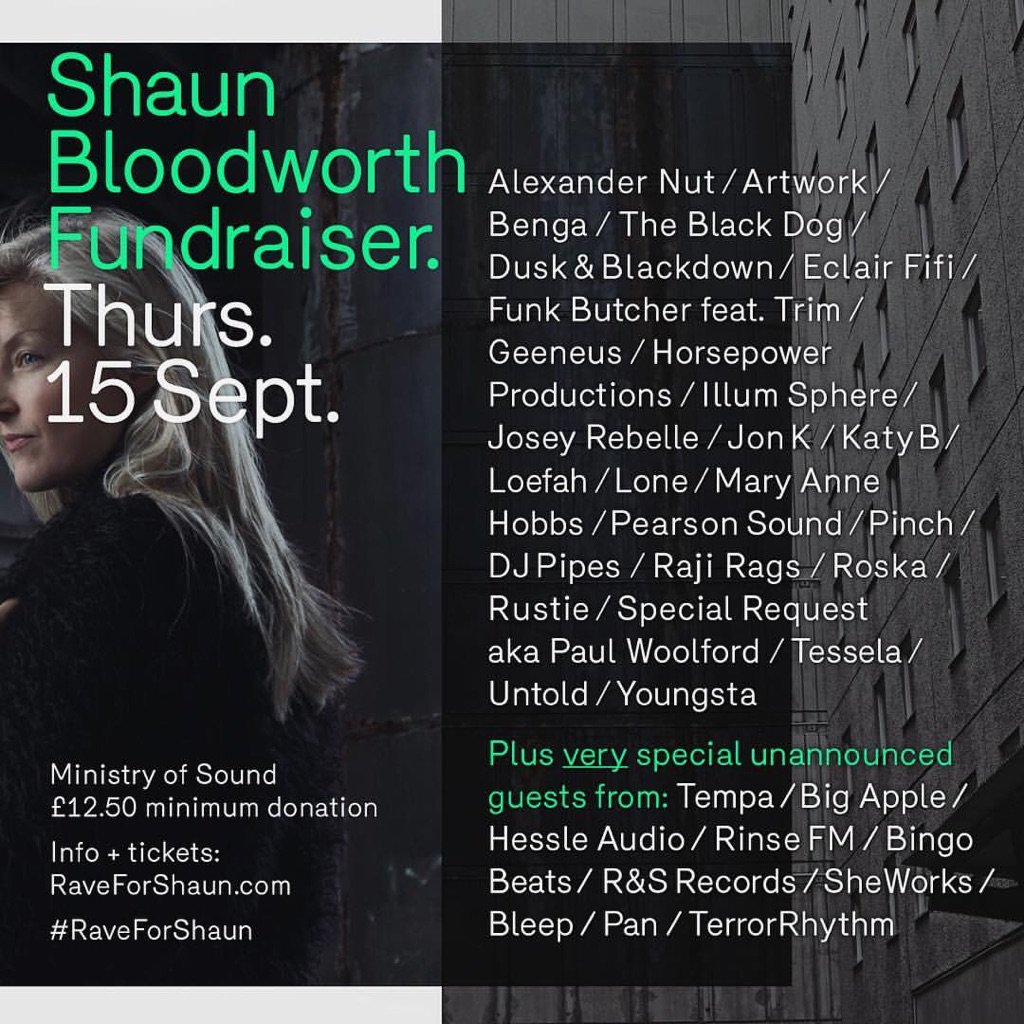 If you are familiar with pretty much any strand of underground, electronic music from the UK and you aren't familiar with Mr Shaun Bloodworth then there is a high chance that you are actually very familiar with the work of Shaun Bloodworth and simply didn't know the name to attach to the style. Bloodworth, along with regular co-conspirator Give Up Art, is more or less responsible for the entire visual identity of dubstep in its formative years. From the stark, confrontational photography of the Dubstep Allstars series to the classic headshots that adorn the Rinse mix series to the branding of influential labels such as Tempa and Bleep the influence of Mr Bloodworth cannot be understated.
Unfortunately Mr Bloodworth has become very ill and a large group of friends and family from the music industry are rallying around to help him out and raise money to supprt both Shaun and his family. At this point we'll let the official event page for the event take over so as not to miss any important details.
"Shaun Bloodworth is a photographer living and working from Sheffield. He has taken an avid interest in the underground electronic music scene, documenting key players, collectives and musicians within the scenes from around the world. .
From his work with Rinse, FWD, Bleep, Tempa, and countless others – he has documented many many artists all over the world.
He has recently become very ill. He's been in the Northern General Hospital for 4 months now, waiting for a liver transplant. He's also suffered an infection that led to him having his lower leg amputated. His transplant is now imminent, but it's becoming critical that he receives a new liver soon.
Shaun is also self-employed, so this enforced and lengthy stay in hospital, and subsequent rehabilitiation, is making a bad situation even worse. These event are a chance for his friends to create something positive for Shaun and his family at this awful time. 
All money raised from the event and this donation page will go directly to Shaun and his family, as well as a donation given to Live Life, Give Life – a UK based organ donor charity. http://livelifegivelife.org.uk/
Please donate generously and spread the word for a man in need and probably the nicest guy you will ever meet in the music industry!"
The event itself looks set to be nothing short of ridiculous. A true who's who of creative giants: From Benga and Katy B to Rustie and Untold literally no stone has been left un-turned in booking what can only be described as one of the most ridiculous lineups Ministry Of Sound has ever seen. Even Give Up Art is busting out a set on the night, which, based purely on his love of the Street Sounds Electro compilation series, is guaranteed to be unmissable!
There's also set to be plenty more announcements on the run-up to the event (and eagle eyed folk will be able to guess a few special guests on the list below) so sign up, donate and help support.
DETAILS & DONATIONS: http://raveforshaun.com/
BUY TICKETS: http://bit.ly/2bwuJS2
Alexander Nut (Eglo Recs)
Artwork
Benga
The Black Dog (Warp Records)
Special Guest (Rinse FM / Bingo Beats)
Dusk & Blackdown (Keysound Recordings)
Eclair Fifi
Funk Butcher feat. Trim
GEENEUS (feat Katy B) (Rinse FM)
Special Guest (Rinse FM / Tempa)
Horsepower Productions
Illum Sphere
Jon K
Josey Rebelle (Rinse FM)
Loefah
LONE (R&S Records)
Mary Anne Hobbs
Special Guest (Bleep.com)
Special Guest b2b Pearson Sound (Hessle Audio)
Pinch
DJ Pipes
Special Guest (Terrorhythm Recordings)
Raji Rags (Livin' Proof / Boiler Room)
Roska
Rustie (Warp Records / LuckyMe)
Special Guest (Big Apple Records / Tempa)
Special Request aka Paul Woolford
Stuart (Give Up Art)
Tessela b2b Special Guest (R&S Records / SheWorks)
Special Guest (Ninja Tune)
Untold
Youngsta
AND NUFF MORE TO FOLLOW!