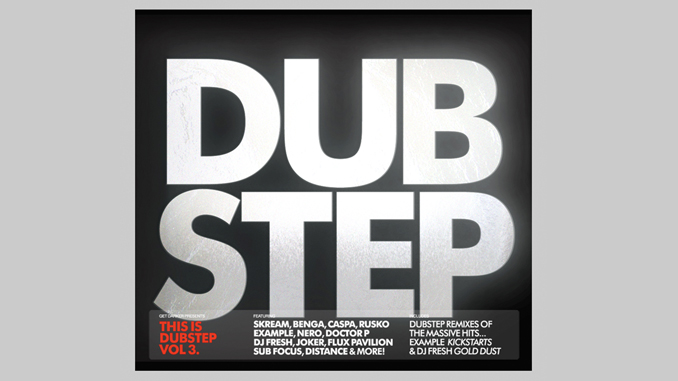 It's time to announce that, our THIRD Dubstep compilation in the "This Is Dubstep" series is now available in most good record shops and digital download stores.

It's a tough job releasing a compilation album, because you're not representing one artist as an individual, but several artists as a comprehensive snapshot of the music they represent. We could have gone ten tonnes deep on the tracklist and made it really progressive and 'headsy' for the purists, or skimmed the top picking tunes everyone knows and playing it safe.
But instead we've gone for both, bringing tunes such as Rusko's remix of Sub Focus's 'Splash' and smashing it into the deep sounds of Clubroot.
CD1
1. Caspa (feat. Subscape)- Geordie Racer
2. Benga – Little Bits
3. Sub Focus – Splash (Rusko Remix)
4. Freestylers – Cracks (Flux Pavillion Remix)
5. Doctor P – Gargoyle
6. Example – Kickstarts (Bar9 Remix)
7. Joker – Tron (VIP Mix)
8. Distance – Menance
9. Cyrus – Beatwise
10. Matt U – Compass
11. Laidblack – Red (Chasing Shadows Remix)
12. Kromestar – Hollow Sphere
13. Gemmy – Maroon Chant
14. Heny G – Candy
15. LD – Blizard
16. Fused Forces – Fairy Cake
17. Emalkay – Critical Hit
18. Lost – Disgustin Justin
19. Chimpo – Bucktooth
20. Clubroot – Comedown
CD2
1. Von D (feat. PhePhe) – Show Me (Skream Remix)
2. Benga – Stop Watching
3. Nero – Innocence
4. Digital Mystikz – Molten
5. Mr Lager (feat. Alys Blaze) – Tell Me (Distance Remix)
6. Baby D – Let Me Be Your Fantasy (Mensah Remix)
7. Funtcase – Mattress Punch
8. Fresh – Gold Dust (Flux Pavillion Remix)
9. Foreign Beggers (ft. Chasing Shadows) – Typhoon
10. Breakage – Speechless
11. Kryptic Minds & Youngsta – Cold Blooded
12. Kulture – Mako Energy
13. Bar9 – Strung Out
14. Plastician – Magma
15. Tunnidge – Bugspray
16. Jakes – Time Ends
17. Nero – This Way
18. Zed Bias – Ambush Riddem VIP
19. Killa & Instinct – Haterz
20. Synkro – Angels (VIP Mix)