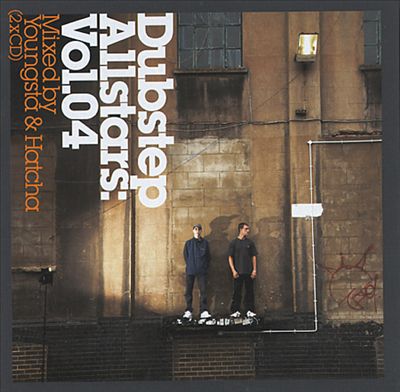 Best viewed as the tumultuous fall-out between a pair of dubstep's most enduring DJ's, 'Dubstep Allstars 4' sees Youngsta and Hatcha squaring up with a CD fenced off for each to do their thing. Starting with disc one, Youngsta comes to the plate with an astonishing level of restraint – choosing to open with a cavernous mix that leaves plenty of room for your imagination to play tricks…
Kicking off with Skream's 'Dub Period' and rattling through the likes of Loefah, D1, Headhunter and Digital Mystikz, Youngsta encourages things to ooze along with a real syrupy intent – cranking things up a gear as Loefah's 'System' takes the mix down a dark and moody alley-way, before D1's couched 'Greazy' lights it all up and shows the link between dubstep and grime in its starkest realisation yet.
Elsewhere, Headhunter's 'Descent' (a veritable mainstay of dubstep's rise) is a wonderfully stilted coalition of half-chewed beats, cheek-popping synth-horns and cracked-varnish digitalis, D1's mix of Skream's 'Warning' is a gut-busting blast of furnace hot low-end action, whilst Digital Mystikz' 'Hunter' ups the tension with some borderline horror melodies.
All that and we've still got a whole mix to go… Moving on to the second set, Hatcha looks to the first half of the 'dubstep' compound, with a mix that opens through a run of deep and heat-blistered low-end – balling you out through the Skream vs. Hijak monster 'Babylon Timewarp'. From here on in Hatcha throws up old favourites like Skream's 'Blipstream' one minute, before introducing new talent to your ears through Kromestar and his new-wave perspective on the genre the next.
Handing the middle section over to a gold-run of Benga's cuts, the Hatcha mix is just as effective as you could hope – blasting the dubstep canon off into a new direction whilst keeping its anchor firmly in port.
Tracklist:
1. Skream – Dub Period
2. Loefah – Ruffage
3. Skream – Morning Blues
4. Digital Mystikz – Blue Notez
5. D1 – Missin
6. Loefah – System
7. Skream – Warning (D1 Remix)
8. Skream – Rottan V I P
9. D1 – Cocaine
10. Loefah – Mud
11. Skream – Welcome 2 The Future
12. Digital Mystikz – Hunter Bobby
13. Headhunter – Descent
14. D1 – Foundation
15. Headhunter – Dream Paths
16. D1 – Greazy
17. Skream – Deep Concentration
18. Skream Vs Hijack – Babylon Timewarp
19. Digital Mystikz – Old Hope
20. Kromestar – Iron Dread
21. Skream – Dutch Flowers
22. Kromestar – Shakti Dub
23. Digital Mystikz – Left Leg Out
24. Benga – Broken Step
25. Benga – Electro Music
26. Benga – Zombie Jig
27. Benga – Always Swinging
28. Benga – Ammo
29. Skream – Blipstream
30. Kromestar – Surgery
31. Digital Mystikz – Beep
32. Digital Mystikz – All Of A Sudden
33. Kromestar – Ghost Town
34. Digital Mystikz – Clash
35. Benga Vs Walshy – Dreamsgate 24
36. Benga – Killers About
37. Skream – Request Line Mala Remix
38. Digital Mystikz – Chaser
39. Skream – Me Love It Instrumental
40. Kromestar – Heavy Mental
41. Benga – Combs 70

Original Source: Boomkat.com