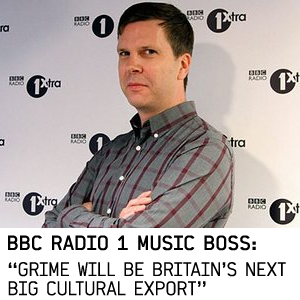 "Chris Price says station's music policy will better reflect audience diversity and claims international eyes are on the grime genre".
The new head of music at BBC Radio 1 and 1Xtra has hailed the talent of black British artists and said the recent Brit awards could have done a better job of reflecting the diversity of UK music.
Chris Price praised artists such as Stormzy, who was named best grime act at the Mobo awards in successive years. The rapper previously criticised the Brit awards, saying Britain "is not just One Direction".


In an interview with the Guardian, Price, who holds one of the most influential jobs in the UK's music industry, predicted this could be the year that grime becomes Britain's next "big cultural export".
He hit out a recent report for the Department for Culture, Media and Sport that called on Radio 1's output to be less populist to help advertising-funded rivals, saying this was a terrible idea and would quickly make it into a "niche station".
Price, 42, said: "At Radio 1, we're really focused on making sure we reflect the diversity of our audience in our music policy. And I'd love to see the success of an artist like Stormzy, who's got a long history with 1xtra and Radio 1, and a top 10 single with Shut Up – the first freestyle ever to do that – to be reflected at the Brits. I'd also really love to see the excellent work that 1xtra does at the black and ethnic minority end of the scale be reflected."
At the Brits ceremony in February, British breakthrough nominees Wolf Alice tweeted that grime was "criminally overlooked" and singer-songwriter Laura Mvula boycotted the event. The organisers of the awards have promised to improve inclusivity.
Price said: "This year could be quite a turning point for grime. Can this become our big cultural export moment, our hip hop? It feels like international eyes are on the genre. Look at Drake signing to Boy Better Know last month or signing grime artists to his own label and Kanye West turning up at the Brits mob-handed with the entire grime industry last year."
He said grime faced one obstacle: "It's not really been an albums genre … In the past 10 years, I think even most grime fans would say there's been one seminal grime album and that's Boy In Da Corner by Dizzee Rascal. But Stormzy's going to drop an album this year, Skepta's probably going to drop an album this year, Kano has just released a phenomenal body of work."
Advertisement
Price grew up in Buckinghamshire and studied French and German at Bristol University. After a brief flirtation with record label marketing in the late 90s, he became a music producer at Radio 1 before heading the music team at MTV and later Last FM. He subsequently founded New Slang Media, a music strategy consultancy working with radio stations and streaming services.
On the same day as he started in his new role, a report commissioned by the Department of Culture, Media and Sport called on Radio 1 to curb its populist appeal to help commercial rivals. "It's a terrible idea," Price said. "Breaking new music is enshrined in Radio 1's service licence, it's what we're here to do. But what's unique about us is that we play brand new music in the mix with more established names, that's what gives us our size and our strength. So if Radio 1 were to play only music that was ignored by other broadcasters, it would quickly turn into a niche station. We would lose our ability to make the hits, which means commercial radio wouldn't have any hits to play."
He maintained that Radio 1 brought huge cultural capital as well as revenue to the UK creative industries. "If you look at the three breakthrough artists of last year – Jess Glynne, James Bay and Years and Years – Radio 1 played a central role in kickstarting and then growing all of their careers. Of course, all that money flows back to the music industry and it's one of the reasons we have such a vital music industry that's respected around the world."


Asked about the choice of artists for daytime airplay, Price said: "I think, in general, music radio has over the past five years or so has become a bit too overreliant on data, whether it's Shazam tags, YouTube views or Twitter followers. The irony is that it almost leads to less certainty about what's going on in the market than more.
"The best and only response is a return to the two things that are never going to let you down: your ears and your heart."
Original Source: The Guardian