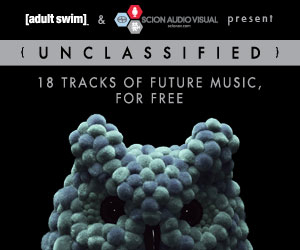 Adult Swim & Scion A/V team up to release whats probably the most exciting ZIP of free music this year.
18 tracks of rare/unreleased music from artists such as Ikonika, Kode9, Pinch, Untold, and even the elusive, Zomby and Burial.
We're still listening through and digesting it, but you can download the contents and watch interviews with Pinch and Actress on Adult Swims website.
Full tracklist:
Ikonika – World On Mute
XXXY – Kerpow
Untold – Peaky
Geiom – Pure Bristle
Ginz – Chrome
Lukid – Running From The Demons
Geeneus ft. Riko, Wiley, Breeze – Knife & Gun (Dusk & Blackdown 2step Mix ft. Farrah)
SBTRKT – Golddigger
Starkey – Eris
Actress – Murder Plaza
Zomby – Hexagons
Dauwd – Ikopol
Boxcutter – Waiting For The Lights Babe Rainbow ft. Ashley Webber
Burial – Street Halo
Kode9 – Just Inside
Pinch – Blow Out The Candle
Cooly G – R U Listening
If you don't have flash installed to download it from Adult Swims website, there is a direct link here