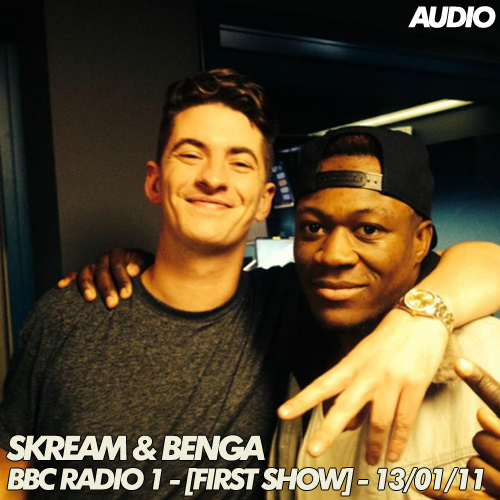 Tonight, Skream & Benga joined 'In New DJ's We Trust on Radio 1, and will continue to do so every 2nd Thursday of the month at 9pm.
They kicked off the show with a brief introduction, for the minority who dont know much about them, this introduction included: Night, 26 Basslines and Katy B (On a Mission) from Benga, and Midnight Request Line and that La Roux remix for Skream.
Whilst debating over who stutters the most when nervous, they include a full spectrum of dubstep music, including 'Falling by Distance, which is now signed to a major label, Skream & Example's 'Shot Yourself In The Foot Again' which is being given away FREE tomorrow.
Other new tracks include Benga – 'UK' never to be released, Jakes 'Clamp', Cyrus – 'Manhatten Blues'.  They end the show with Joker's – The Vision.
This is the first of their 'In New DJ's We Trust' show, and is a show that is certain to be talked about for years to come,
just like Mary Anne Hobb's 'Dubstep Wars' which was broadcast 5 years ago.
TRACKLIST
Distance – Fallin' feat Alys Blaze
Skream & Example – Shot Yourself In The Foot Again
Youngman – Slaughter
Dread MC & TC – Concrete
Slaughter Mob – Dubphonic
Cyrus – Manhattan Blues
Distance – Knowing
Orphan 101- Disembled
Instra:mental – Voyeur
Kutz – Shapeshifter
Magnetic Man vs Redlight – What U Banging On About
Eddie K – Banger For Me
Silkie – Get Me Taxi
Benga – Uk
Benga – Electro West
Skream – Xmas Day Banga
Jakes – Clamp
Rusko – Everyday
Joker – The Vision