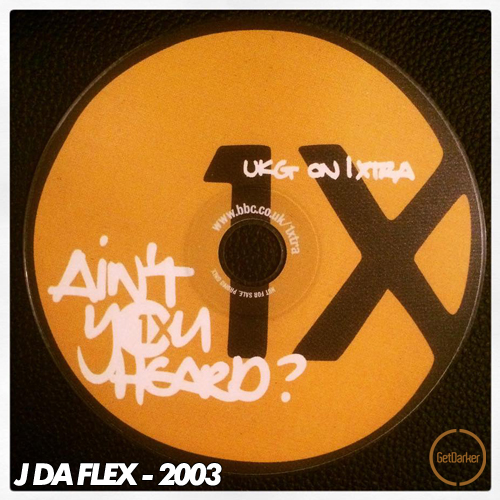 September 2003, this promo mix was included with the monthly edition of (the now extinct) Deuce Magazine. J Da was promoted from a Wednesday slot, to a prime time Saturday night at 9pm.
His style had become less Garage and more breakier, where he was repping labels like Storming Productions, Hotflush & Big Apple alongside releases from the more well known Tempa.
On this CD he plays up & coming London producers like Vex'd and Benga & Skream, with a heavy up north contingent from Dubchild, Mark One & Darqwan/ Oris Jay
An idea of where things were in 2003, Hatcha's Dubstep Allstars 001 CD had came out a few months before this giveaway.

TRACKLIST
1. El-B & J Da Flex– Da Wickedest (dubplate)
2. J Da Flex- Pain
3. Dubchild- Roll Dat Shit
4. Benga & Skream- Judgement
5. Benga- Benga Beats Vol 1.
6. J Da Flex- Blind Faith
7. Skream- Konga
8. Vex'- Lion
9. London Electricity- Cum Dancing (Dubchild remix)
10. Geeneus- Journey (Oris Jay mix)
11. Dubchild- Warning
12. Shimano- Blues VIP
13. Plasticman- Hard Graft (Mark One remix)
14. Mark One- Fight
15. Plasticman- Spring Roller
16. Oris Jay- Underground
17. Mark One- The Bomb
18. Daluq- Red Eye
19. Mark One- Rain Dance
20. Oris Jay- Three Note Blue
21. Slaughter Mob/ SLT MOB- L'amore