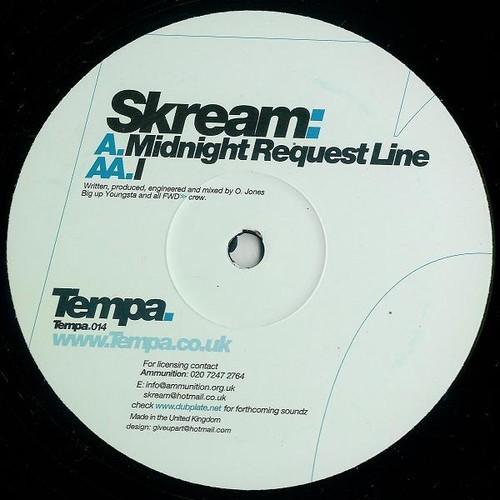 Recently creating a tsunami of interest around the dubstep scene from feature articles in Germany's de:bug to Vice and elsewhere Skream is making big waves with his incredibly on point productions.

'Midnight request line' is the track that's had the bloggers rubbing their nipples with bass induced glee, and even prompted Dizzee freestyles on rinse fm, which I'm reliably informed is the first time a straight dubstep track has been used in the grime/MC arena. The track itself is a spooked out riddimatic piece of bassline science, with an insanely catchy floating melody punctuated by a neckbreaking snare/gunshot combo and subsonic bassline perfection to drive your ass into the skank, tune.
Anyone who picked up on the recent tempa dubstep allstars 2 mix will also recognise 'I' on the b-side, a much heavier cut with an oppressivly monotone bassline and shit-yer-pants horror synths to darken up the dance. The only thing I've heard recently that betters this 12″ is the forthcoming 28g 12″ on tectonic, yet another stunning skream production, I want some of what he's smoking! Buy and crank. That's an order.
Original Source: Boomkat.com