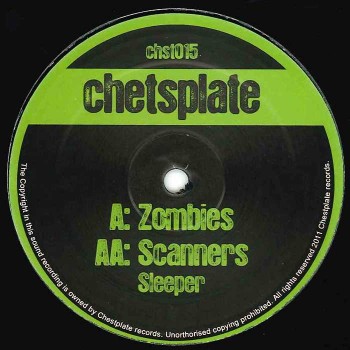 Chestplate has treated us to yet another huge release, this time from Dubstepforum Awards 'best new producer' nominee, Sleeper.
A release from Sleeper has been long-awaited with plenty of fans eager to get their hands on copies of his tunes and boy better know these three bangers are certain to satisfy that need.
---
On the flip side we have Scanners. The track builds up with a mixture of sounds leading to the first drop, the rhythm changing slightly on the snare to bring in a drum pattern before the smooth bass hits. There's a definite deep ambience to Scanners.
Narrow comes as part of the digital package and I expect there will be a few people disappointed not to get this on wax. Narrow hits some of the lowest frequencies contrasting with crisp percussion sounds. After the first drop, the weighty bass continues pulsing in and out underneath varying drum and sound patterns fabricating a layered track. The rhythm and hypnotising bass keeps you completely absorbed in this tune.
All three tracks have gained great support. Chestplate don Distance, Youngsta and Jay5ive have all backed them on RinseFM along with J:Kenzo on 1xtra, and they are set to have airplay by Mistajam on 1xtra also.
The release date is 9th January 2012… that's tomorrow! Go on, hook yourself up.
Words: Anna