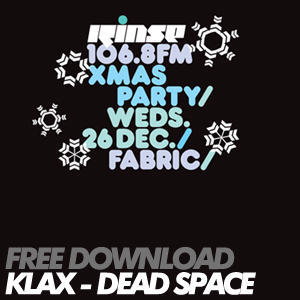 Once the sole preserve of post-Christmas Day dyspraxia brought about from major cheese and meat hangovers, Boxing Day is now a major date on any discerning clubber's calendar. Thanks to its lack of stupidly high expectations, it's often regarded as a much more fulfilling night to party than a hundred New Years Eves smelted together… And few nights sum this up better than Rinse's Boxing Day bash at Fabric, London.
A tradition that's now four years deep, the Rinse fam Boxing Day Clerkenwell union fuses the station's many genre strains for a three-room festive frenzy that guarantees instant calorie burn-off.  And it does so while showcasing the skills of some of the most exciting names in electronic music. Obviously this year is no exception: Skream, Boddika, Zinc, XXXY, Sophie and Horse Meat Disco will be taking care of room one while Ben Pearce, Roska, Joker, Faze Miyake, Brackles, Leftwing & Kody and Shorterz will be delivering the beats in room two.
It's Contact's line-up in room three that tickles GetDarker's tastes the most, though… Youngsta, J:Kenzo, Amit, Loxy, Ben Verse, Seven, Klax and SP:MC have all signed up to the Boxing Day hoe-down. And to celebrate this fusion of sub-sided minds, Klax have unleashed 'Dead Space'.
Exclusive to GetDarker, 'Dead Space' bolsters the already solid reputation Riskotheque and Locustlung's Klax project has already generated through key appearances on Seven's Uprise Audio and US imprint Sub Pressure. We're sure you'll agree, it's an absolute sonic slug of a tune. And it's yours for absolutely no pennies whatsoever.
Download it now, then grab tickets for Rinse's Boxing Day session right here.